Indiana puts its unblemished 2-0 record on the line Saturday as it looks to stop one of the most high-powered offenses in the nation in the Western Kentucky Hilltoppers.
This story will be frequently updated before, during and after the game. Be sure to refresh this page regularly.
—–
1ST OVERTIME
Indiana 33, Western Kentucky 30
Charles Campbell nails the game-winner from 51 yards out. The Hoosiers come from down 11 points to win it.
Indiana 30, Western Kentucky 30
Noah Pierre comes off the edge to sack Reed, and WKU's first overtime drive stalls out. On the field goal try, Jaylin Williams came in to block the punt and Bryant Fitzgerald nearly returned the scoop for a game-winning score.
IU needs a field goal to win it.
FOURTH QUARTER
Indiana 30, Western Kentucky 30 (0:00)
Mayhem at Memorial Stadium. The Hilltoppers drive to IU's 25 to set up a potential game-winning field goal. But IU uses its final timeout to ice the kicker and it pays off as Narveson's 44-harder sails wide right.
We're headed to OT.
Indiana 30, Western Kentucky 30 (0:47)
Indiana comes roaring back late in the fourth quarter again, driving 75 yards and capping off the drive with a 4-yard touchdown throw from Bazelak to Camper.
But trailing by two points, the Hoosiers have no choice but to go for the two-point conversion. Three timeouts later (one by IU, two by WKU) and Bazelak finds McCulley all alone in the back of end zone for the conversion.
We're all tied up in Bloomington after IU trailed by 11 points midway through the third quarter.
Western Kentucky 30, Indiana 22 (3:46)
Kye Robichaux breaks loose for a 36-yard gain, then a facemask penalty against Jaylin Williams gives the Hilltoppers an extra 15 yards. IU's defense once again holds steady in the red-zone, though, and forces a fourth-down field goal. Narveson's chip shot is good and gives WKU an 8-point cushion.
Western Kentucky 27, Indiana 22 (7:00)
Charles Campbell nails a 32-yarder to push IU within five points.
Western Kentucky 27, Indiana 19 (8:33)
Who else other than Cam Jones? On the second play of WKU's drive, Jones wraps up Joshua Simon in the flat and jars the ball loose. Myles Jackson comes up with the recovery. IU has newfound life and needs only 16 yards for a touchdown.
Western Kentucky 27, Indiana 19 (9:13)
Indiana's offense sputters and is forced to punt. Chaos ensues, though, as Evans' punt appears to touch a Western Kentucky player, which IU picks up for a potential turnover. However, further review shows the ball never touched a WKU player and IU was the first team to get its hands on the ball.
After all that, Western Kentucky's drive will begin at the 18 yard line.
Western Kentucky 27, Indiana 19 (11:33)
Indiana's defense again has little response for Western Kentucky's up-tempo offense. On 3rd-and-9 on WKU's initial set of downs, Jaylin Williams was flagged for defensive holding, negating a potential three-and-out. The two plays later, Kye Robichaux finds a big a running lane and turns on the jets for a 59-yard carry. IU's defense is able to do damage control at the goal line, stuffing WKU on three-straight plays, but it's still enough for a field goal.
Brayden Narveson's 20-yard chip shot is good. Hoosiers down eight with 11:33 to play.
Western Kentucky 24, Indiana 19 (14:51)
Indiana finds the endzone for just the second time today. A 30-yard completion to Emery Simmons moves IU quickly to midfield, then a couple rushes from Josh Henderson of 5, 5 and 10 yards pushes IU near the goal-line. On 2nd-and-10 from WKU's 19, Henderson finds a crease up the middle and breaks away for a 19-yard touchdown. IU's two-point conversion try fails.
Big response from the Hoosiers, now the defense has to do its part. Still a very winnable game for either team.
THIRD QUARTER
Western Kentucky 24, Indiana 13 (2:47)
Western Kentucky drives all the way inside the 10-yard line, but the Hoosiers finally get the takeaway they've been looking for as Myles Jackson picks off Reed in the endzone and returns it to the 10.
The Hoosiers looked completely deflated up until that interception, so could be a pivotal point in the game. IU's offense needs to find a way to parlay the takeaway into points.
Western Kentucky 24, Indiana 13 (6:09)
Indiana's offensive response is a dud as Shivers runs for 10 yards, but the drive immediately stalls out afterward. A screen pass to DJ Matthews on 3rd-and-9 gets blown up at the line of scrimmage and IU is forced to punt.
James Evans punt goes 44 yards and is returned to the WKU 26 yard line.
Western Kentucky 24, Indiana 13 (7:37)
The Hilltoppers drive 72 yards on nine plays to the find the endzone. A 24-yard completion to Craig Burt Jr. bails out WKU on 2nd-and-17, then a 16-yard strike to Jaylin Hall moves the Hilltoppers into IU territory. A fake toss from Reed fools IU's defense and allows him to find Joshua Simon over the middle who rumbles to the 1 yard line. Reed finishes off the drive himself with a QB draw for the score.
Indiana's secondary has been really poor today. Far too many drives with potential of stalling out, being elongated by blown coverages or soft coverages. If IU wants to win this game, it cannot get into a shootout scenario with Western Kentucky.
Western Kentucky 17, Indiana 13 (12:17)
Indiana's opening drive of the second half starts at the 25, and Shaun Shivers appears to be coming alive. A delayed handoff on 3rd-and-7 fools WKU's entire defense and Shivers finds a hole up the middle to break free for a 32-yard gain. On the next play, Bazelak throws a dump-off to Shivers who explodes ahead for a 15-yard gain. Those two plays alone help move IU into the redzone, but the drive stalls out at the 14 yard line.
Charles Campbell's 32-yard boot is good. A decent scoring drive for IU to open the second half, but a combination of dropped balls from receivers and bad overthrows from Bazelak thwarted any thoughts of a touchdown.
—–
HALFTIME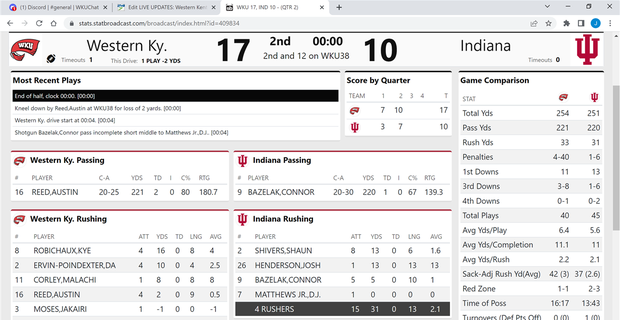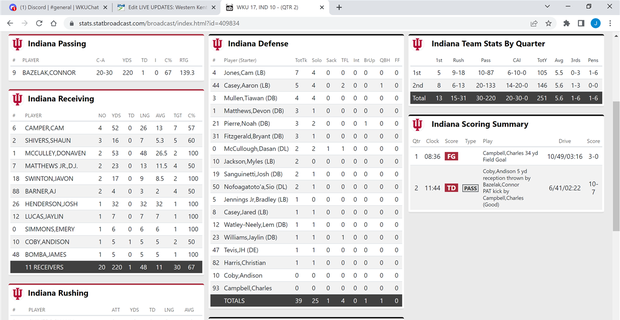 —–
SECOND QUARTER
Western Kentucky 17, Indiana 10 (0:00)
With two timeouts left, the Hoosiers try to march down the field in less than a minute. A 26-yard and 15-yard completion to Camper gets IU past midfield and into field-goal range, but on 2nd-and-10, Bazelak takes a 6-yard sack and forces IU to use its final timeout. The sack also took IU out of field goal range, so with 12 seconds left and facing 4th-and-long, Bazelak throws up a Hail Mary that sails out of the end zone.
The Hilltoppers knee the ball to go into halftime.
Well, the Hoosiers effectively squandered any momentum it seemed to have by taking that sack and failing to score in the final seconds. Hoosiers get the ball to start the second half.
Western Kentucky 17, Indiana 10 (0:51)
Indiana's ensuing drive promptly goes three-and-out, and James Evans' punt travels 50 yards to the 37 yard line.
The Hilltoppers pull out some trickery as they run a flea flicker, which results in a 26-yard gain for Malachi Corley. Could've been a touchdown if Corley would've continued running down the sideline instead of cutting it back toward the middle of the field.
Then, with WKU inside the 10 yard line, IU catches a break as a potential touchdown is negated by a holding penalty against the Hilltoppers. Faced with 2nd-and-13, Tiawan Mullen comes up with a big one-on-one tackle on the edge to force 3rd-and-11, which WKU can't convert as Jaylin Williams lays a big hit near the sideline. IU calls it first timeout of the half with 51 seconds remaining and WKU looking for a field goal.
Brayden Narveson's 44-yarder is good and the Hilltoppers go up by seven. 
Western Kentucky 14, Indiana 10 (5:34)
Fortunately for the Hoosiers, the turnover doesn't prove costly as IU's defense holds firm. A false start penalty sets the Hilltoppers back five yards, and on 3rd-and-2, Devon Matthews and Bryant Fitzgerald drag down Austin Reed on a designed QB draw.
Eller's punt is a good one, rolling to the 4-yard line. Hoosiers offense is back to work.
Western Kentucky 14, Indiana 10 (7:50)
Josh Henderson starts IU's drive in a big way as he makes a one-handed catch over the middle and shakes a few defenders for a long 32-yard gain. Heck of a play from Henderson, showing off a bit of his versatility to get IU past midfield.
Then, IU gives WKU a taste of its own medicine with a bunch of quick throws to the outside that pick up 22 yards of offense. A pass to Shaun Shivers over the middle pushes IU to the 11-yard line.
But the Hoosiers make a massive mistake in the redzone as Bazelak tries to throw a swing pass to Shivers in the flat, but Shivers can't hang on and WKU jumps on the ball. Since the ball was passed backward, it was ruled a lateral and therefore a fumble recovered by the Hilltoppers.
Extremely tough blow for what was setting up to be a promising scoring drive for Indiana. WKU takes over at the 11 yard line.
Western Kentucky 14, Indiana 10 (11:02)
Chris Freeman's kickoff goes out of bounds, which starts WKU's drive at the 35 yard line.
The Hilltoppers only need three plays to find the endzone as Reed finds Malachi Corley for a 15-yard gain, followed by a 44-yard touchdown strike to Daewood Davis. Looked like blown coverage again for Indiana in the secondary. The no-huddle offense is giving IU's defense problems right now, especially in trying to get set before the snaps.
Indiana 10, Western Kentucky 7 (11:44)
Indiana's defense does its job once again, nearly forcing a safety and pinning the Hilltoppers inside its own 1 yard line. WKU's offense can't do anything else on third down but just avoid a safety and punt the ball away. DJ Matthews hits a slick juke on his punt return to shake one defender but is brought down at the 41 yard line.
Indiana's offense comes out with much more tempo and gives WKU a little bit of what it has done all game — quick slants, receiver screens etc. A 7-yard completion to Camper and a 13-yard run from Josh Henderson gets IU to the redzone, then a few plays later Bazelak finds Andison Coby in the back of the endzone for a touchdown.
Efficient and quick drive for the Hoosiers, needing only six plays to drive 41 yards. Nice response by IU.
FIRST QUARTER
Western Kentucky 7, Indiana 3 (0:04)
A block in the back penalty against IU on the ensuing kickoff starts IU's drive at the 7 yard line.
On the first play of the drive, Bazelak finds Donaven McCulley wide open over the middle for a long 48-yard gain. McCulley had three or four defenders trying to tackle him after the catch and he refused to go down, using stiff arms and spin moves.
The long play does nothing to spark IU, though, as its drive stalls at midfield. Bazelak tried to find Cam Camper over the middle on 3rd-and-2, but he had a defender draped all over him to force the breakup.
James Evans' punt is a beauty, downed at the 2-yard line.
Western Kentucky 7, Indiana 3 (1:37)
The Hilltoppers' no-huddle offense strikes for the first time this afternoon. An 18-yard completion to Michael Mathison over the middle pushes WKU near the redzone, and two plays later Reed floats a pass over the top to Joey Beljan who splits a pair of IU defenders for the 26-yard score. Looked blown coverage in IU's secondary.
WKU made quick work of IU's defense on that drive. Hoosiers looking for a response on offense.
Indiana 3, Western Kentucky 0 (2:50)
Bazelak shows off some of his athleticism to open the drive as he keeps a QB option, evades a defender and gains 10 yards for a first down. However, the Hoosiers don't get much farther as they try to convert a 4th-and-2 opportunity at midfield but Shaun Shivers' run up the middle is immediately stuffed. IU turns the ball over on downs and WKU will take over at the 49 yard line.
Hoosiers have only two rushing yards so far, aside from Bazelak's 10-yard scramble. That's not a recipe for success. Ground attack has to find a way to get going quickly.
Indiana 3, Western Kentucky 0 (4:27)
Indiana's defense is able to force a 3rd-and-4 situation on WKU's second drive, but Austin Reed is given plenty of time in the pocket and finds Jaylen Hall near the sideline for a 21-yard gain and a fresh set of downs. A few plays later, the Hilltoppers nearly broke off a huge touchdown run on a jet sweep, but a block-in-the-back penalty against WKU negates the would-be score.
A tackle-for-loss made by Aaron Casey puts WKU in a 2nd-and-16 situation, which ultimately proves too long to convert. However, on 4th down at the 33 yard line, instead of sending out the field goal unit, WKU tries for the conversion and fails. Reed's deep ball had one-on-one coverage over the top, intended for Malachi Corley, but the pass bounced off Pierre's helmet. Don't think Pierre ever turned his head around, but the coverage was good enough to force the breakup.
Another strong defensive series for Indiana. Offense gets back to work at the 33.
Indiana 3, Western Kentucky 0 (8:36)
Weird situation on IU's offensive line as third-string center Caleb Murphy is starting today. Certainly something to monitor throughout the game.
Nonetheless, Indiana picks up a quick first down and gets past midfield thanks to an unnecesseary roughness penalty against the Hilltoppers.
Chaos ensues just a few plays later, though, as Connor Bazelak scrambled and slid, but was hit in the head with a late tackle. After the play, Cam Camper and AJ Barner got into the face of the defense due to the dangerous hit on Bazelak, and Camper was pushed down onto the field. After further review, the officials rule no targeting happened, but the three personal fouls after play are all offsetting. So after all that, no additional yardage or set of downs was given to IU.
The wild chain of events pushes Indiana into the redzone after a 13-yard strike from Bazelak to DJ Matthews Jr., but the Hoosiers can't push any closer than the 16 yard line. Charles Campbell's 33-yard field goal is good and gives IU an early lead.
What a chaotic start to the game, but IU's offense looked pretty good on that opening drive except for the last few plays where it stalled out.
Indiana 0, Western Kentucky 0 (11:52)
Indiana wins the coin toss and elects to defer to the second half, so Western Kentucky will receive the opening kickoff.
Chris Freeman's kick goes through the back of the endzone and the Hilltoppers start their drive at the 25 yard line.
A series of screen passes to the outside and no-huddle offense gets Western Kentucky the 43 yard line, but on 3rd-and-4, Dasan McCullough goes unblocked off the edge and sacks Austin Reed to force fourth down. That's McCullough's third sack in his last five quarters of football.
Tom Ellar's punt goes 31 yards and is fair caught at the 35 yard line. Strong start for the Hoosiers on defense.
—–
11:54 a.m. ET update
About five minutes away from kickoff. Late-arriving crowd, even the student section isn't as strong as it has been the first two weeks. Was expecting a big crowd today, we'll see if it eventually fills in.
11:31 a.m. ET update
Players NOT dressed: S Jonathan Haynes, OL Cameron Knight, WR Jaquez Smith, WR David Baker, BULL Richard Thomas, TE Brady Foley, TE Ryan Miller, OL Randy Holtz, OL Chris Bradberry.
Senior defensive end James Head Jr. is dressed and going through warmups, so it looks like he'll make his season debut today. Meaningful addition to Indiana's strong-side DE depth.
11:03 a.m. ET update
Indiana's quarterbacks and a few other players are on the field now for warmups. Don't see anything unusual with the alignment or players dressed. Western Kentucky hasn't come onto the field yet aside from its punters and kickers.
—–
PRE-GAME NOTES
Kickoff time: Noon ET at Memorial Stadium in Bloomington, Indiana
TV: Big Ten Network; Lisa Byington (play-by-play), Anthony Herron (color), Krystle Rich (sideline)
Radio: IU Radio Network; Sirius/XM 84, SXM App 84: Don Fischer (p-b-p), Rhett Lewis (analyst), Joe Smith, John Herrick
Weather forecast: 84 degrees, mostly sunny, 0% chance of precipitation, 7 mph winds
Indiana injury updates: IU head coach Tom Allen said Thursday he's hopeful that senior DE James Head Jr., who has not appeared in a game this season due to injury, will be available to play limited snaps on Saturday. Allen also said backup safety Jonathan Haynes is questionable against Western Kentucky. Other than those two injuries, the Hoosiers appear to have mostly a clean injury report heading into Saturday.
VIP game chat: Click here
—–
NOTABLES
– Indiana opened the week as 6.5-point favorites, which still remains the case as of Saturday However, ESPN's Football Power Index gives the Hoosiers only a 45.2 percent chance at victory.
– Indiana is 4-0 all-time against Western Kentucky dating back to the first matchup in 2008. The last two meetings have been decided by three points or fewer.
– Western Kentucky lost four critical pieces this offseason from last season's No. 1-ranked offense in the nation: QB Bailey Zappe, WR Jerreth Sterns, DE DeAngelo Malone, OC Zach Kittley. Zappe, Sterns and Malone have all found homes in the NFL, while Kittley filled Texas Tech's offensive coordinator vacancy this season. QB's coach Ben Arbuckle and WR's coach Josh Crawford were elevated to co-offensive coordinators this season and once again have the Hilltoppers' offense churning out points.
– Hilltoppers graduate transfer quarterback Austin Reed appears primed for a big season as he's already passed for 547 yards and seven touchdowns in two games. Reed transferred from Division II West Florida, where he helped the Argos win a national championship in 2019.
– Indiana's rushing attack exploded last week against Idaho as Shaun Shivers rushed for 155 yards and one touchdown, while Josh Henderson added 58 yards and a score.
– D.J. Matthews is the lone Hoosier receiver with a touchdown in both games this season.
– Western Kentucky running back Davion Ervin-Poindexter is making his return to Bloomington, where he spent the first three years of his career. Prior to transferring to WKU this offseason, Ervin-Poindexter was a walk-on at IU and last season played in 12 games and tallied 226 rushing yards and one touchdown. This season, he leads the Hilltoppers with 24 carries for 98 yards and one touchdown.
– IU starting QB Connor Bazelak found his stride in the second half against Idaho as he finished with 197 pass yards and two touchdowns, but also coughed up an interception.
– This year's Western Kentucky roster includes 40 transfers, 20 incoming transfers, and 17 transfers who previously played at Power-5 programs. It isn't dissimilar to the Hoosiers, who saw over two dozen players depart the program this offseason via transfer or graduation, along with five assistant coaches.