With 7:37 remaining in the quarter, Indiana (3-0) faced a 24-13 deficit against Western Kentucky (2-1) and a wave of momentum that clearly favored the Hilltoppers. However, the Hoosiers refused to back down until the final whistle and fought furiously to mount a comeback Saturday afternoon at Memorial Stadium.
With 47 seconds left in the game and IU trailing 30-22, Indiana redshirt junior quarterback Connor Bazelak engineered a nine-play, 75-yard touchdown drive, capped off by a receiving score from junior wideout Cam Camper. The Hoosiers still faced a two-point deficit, though, and had no choice but to attempt the two-point conversion, which they converted as Bazelak found sophomore wideout Donaven McCulley all alone in the back of the end-zone to tie the game at 30-30.
But instead of letting the clock run out and going to overtime, Western Kentucky drove 39 yards in less than 45 seconds to set up a potential game-winning field goal. Then, disaster struck for the Hilltoppers. After IU spent its final timeout to attempt to ice Western Kentucky kicker Brayden Narveson, his 44-yard attempt went wide right, sending Memorial Stadium into a frenzy and the game into overtime.
Indiana won the coin toss prior to overtime and elected to start on defense, which proved to be the right decision. A sack by fifth-year senior husky Noah Pierre pushed the Hilltoppers to a 3rd-and-14 scenario, and a tackle from Tiawan Mullen forced the Hilltoppers into a field goal attempt on fourth down. Then, more disaster, as Indiana fifth-year senior cornerback Jaylin Williams blocked Narveson's potential go-ahead field goal, which was nearly returned the other way for a game-winning IU score by sixth-year safety Bryant Fitzgerald.
Indiana put all of the chaos to an end once and for all as redshirt senior kicker Charles Campbell nailed a 51-yard, game-winning field goal to seal the Hoosiers come-from-behind triumph over the Hilltoppers.
Indiana's offense, though shaky at times, managed to churn out 484 total yards. Bazelak completed 33-of-55 passes for 364 yards and two touchdowns. Camper led all receivers with a game-high eight catches for 93 yards and one touchdown. DJ Matthews Jr. and Emery Simmons combined for nine catches for 92 yards. Indiana's rushing attack all seemed to gain traction as Shaun Shivers and Josh Henderson each topped 50 rushing yards. Henderson's 65 yards on 12 carries were team-high, and he also found the endzone early in the fourth quarter.
Indiana's defense held firm, too, forcing three takeaways and the critical blocked punt in overtime. Fifth-year senior linebacker Cam Jones tallied a game-high 13 tackles, one tackle for loss and one forced fumble. Fitzgerald had 10 tackles, while Pierre finished with nine tackles, one tackle for loss, one sack, one pass breakup, and one forced fumble. Myles Jackson had an interception to go along with two tackles. 
On special teams, sophomore punter James Evans averaged 44 yards per punt, including a long of 50 yards and two punts landed inside the 20-yard line. Campbell was a perfect 4-for-4 on the day, capped off by his game-winning 51-yarder in overtime.
With the win, the Hoosiers' unblemished record improves to 3-0 overall. They will travel to Cincinnati next Saturday for a 3:30 p.m. ET battle against the Bearcats.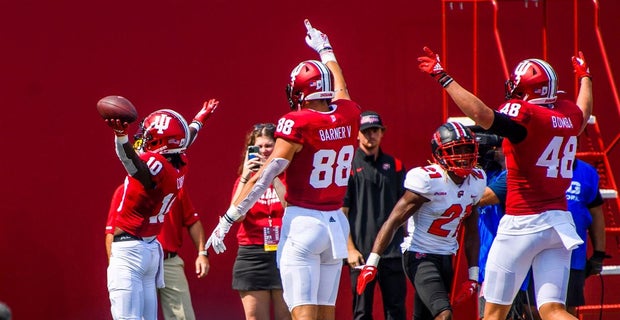 Key scoring plays and drives:
1Q: IU leads 3-0 — Charles Campbell 34-yard field goal
1Q: WKU leads 7-3 — Austin Reed 26-yard TD throw to Joey Beljan
2Q: IU leads 10-7 — Connor Bazelak 5-yard TD throw to Andison Coby
2Q: WKU leads 14-10 — Reed 44-yard TD throw Daewood Davis
2Q: WKU leads 17-10 — Brayden Narveson 34-yard field goal
3Q: WKU leads 17-13 — Campbell 32-yard field goal
3Q: WKU leads 24-13 — Reed 1-yard TD run
4Q: WKU leads 24-19 — Josh Henderson 19-yard TD run –> IU 2-point conversion fails
4Q: WKU leads 27-19 — Narveson 24-yard field goal
4Q: WKU leads 27-22 — Campbell 32-yard field goal
4Q: WKU leads 30-22 — Narveson 24-yard field goal
4Q: Tied 30-30 — Bazelak 4-yard TD throw to Cam Camper –> Bazelak 2-point conversion throw to Donaven McCulley
4Q: Tied 30-30 — Narveson misses potential game-winning FG with time expiring
1OT: Tied 30-30 — Jaylin Williams blocks Narveson FG
1OT: IU leads 33-30 — Campbell 51-yard field goal for the win