There's news other than the CeFi meltdown, and it's time to start working through the pile …
Don't forget the Patreon — your $5 or $20 a month really does help. Don't forget to message and ask for your "Bitcoin: It Can't Be That Stupid" stickers! [Patreon]
Sign up to get these newsletters, and all other blog posts, by email the moment they go up. [scroll down, or click here]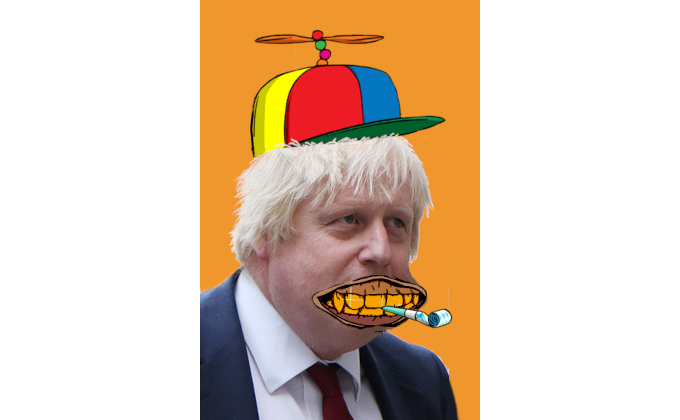 Original art by Jorge Stolfi, do not right-click.
This nation's saving grace
Crypto has crashed, it's dumb as hell, and Rishi Sunak still wants the UK Treasury to go full steam ahead for the sunlit uplands of Brexit Britain with the Royal Mint NFT! [Telegraph]
Sunak also pushed for stablecoins for payments in the UK, against the Bank of England's advice. [Telegraph]
Sunak quit as Chancellor earlier in July, when the Conservative Party finally accepted that Boris Johnson was a liability. Industry group CryptoUK thought this put their strategy for getting the UK government getting into crypto "back to square one". But Sunak is currently in the running to be the next Prime Minister, so we should be so lucky. [Bloomberg]
So what's the Tory crypto story?* The UK Conservatives suddenly went all-in on crypto a couple of months ago — and by sheer coincidence, there was a £500,000 donation to the party on 9 February from Christopher Harborne, keen Brexiter and a Bitfinex shareholder. [Financial News, paywalled; Reddit; Protos, 2021]
The 1997 book The Sovereign Individual (UK, US) by James Dale Davidson and William Rees-Mogg — yes, the father of arch Brexiter Jacob Rees-Mogg MP — purports to be a handbook on how to profit from social collapse. The architects of Brexit read this book and took it in wholeheartedly. Pete Howson explains the Rees-Mogg connection to the Tories and crypto. [Novara Media]
Coiners haven't read The Sovereign Individual, but they have a remixed version in Balaji Srinivasan's book The Network State: How To Start a New Country (US, UK) — about how to profit from social collapse but with blockchains in.
My summary of Balaji's book, which I absolutely did not pay for: "what if seasteading, but it's a DAO. And we're all dArK EnLiGhTeNmEnT oo-WEE-oo!!" I asked that Balaji set out his great plan, and I guess he has. "A political party is closer. A very tight-knit NFT community or influencer/CEO following is even closer." You'll find it wherever bad books are pirated.
* phrase nicked from Jemima Kelly's 2018 series on the topic in FT Alphaville [FT, paywalled]
Coach and horses
Maxine Waters (D-CA) and Patrick McHenry (R-NC) of the House Financial Services Committee are working on a bill to regulate stablecoins, which would make the Federal Reserve the regulator. [Bloomberg; WSJ, paywalled]
The current draft requires issuers to maintain 100% reserves of a restricted range of assets — not necessarily dollars in a bank account — and bars issuers from lending stablecoins.
I'd have thought that if Waters and McHenry agreed on the bill, it'd be at least okay — they went in hard on Facebook's Libra plan in 2019 (Libra Shrugged, chapters 10 and 13) and certainly showed a good grasp of the issues then.
The plan was to put this bill to the House this week. But even though the text hasn't been publicly released, I'm told that a pile of people that were consulted were super-annoyed at the bill — and it's now being considered further, and might eventuate in September.
They're made out of Meta
Nobody cares, but Facebook Pay was renamed Meta Pay in June. If it had users, they'd call it Meat Pay. Meat CEO Mark Zuckerberg talked about a fabulous far-off future for Meat Pay that remains entirely unimplemented in the present. [TechCrunch]
Nobody cares about this either, but Meat has finally shut down the Novi Wallet, originally the Calibra wallet for Facebook's Libra cryptocurrency. Novi was in slight use for a pilot scheme to send remittances from the US to Guatemala, which they claimed used Pax Dollars (USDP) as the currency — though in practice, the USDP stayed in Novi's account at Coinbase, and users exchanged numbers in Novi's database. Those users could no longer add money to their accounts after 21 July; the service will be shut down on 1 September. [Bloomberg]
Meat's comment on Novi's failure in the actually-existing present was an appeal to the fabulous hypothetical future:
We are already leveraging the years spent on building capabilities for Meta overall on blockchain and introducing new products, such as digital collectibles You can expect to see more from us in the web3 space because we are very optimistic about the value these technologies can bring to people and businesses in the metaverse.
Silvergate Bank bought the Diem Association's assets in January 2022. Silvergate says they'll be releasing a small pilot of their US dollar retail stablecoin later in 2022, according to their earnings calls for Q1 and Q2 2022. [Silvergate, PDF; Silvergate, PDF]
The Diem code repository on GitHub still gets updates — there have been a total of six code commits since September 2021. Aptos Labs, a bunch of ex-Meat coders, just raised $150 million in an FTX-led funding round to build the Diem blockchain — they might even double that number! Aptos is a different group of ex-Meat developers to the a16z-backed Mysten, which is doing the same thing, and is also doing an FTX-led funding round. [GitHub; CoinDesk; CoinDesk; CoinDesk]
The one man with the one vote
President Vladimir Putin has banned crypto payments in Russia, as of 15 July. Cryptos cannot be used as "monetary surrogates" to pay for goods and services. Non-ruble currencies are banned in the same way. This is the draft bill backed by Russia's Ministry of Finance (MinFin) that was floating around as of February this year. [CryptoBriefing]
Elvira Nabiullina, head of the Bank of Russia, despises crypto. Nabiullina is highly regarded by her fellow European central bankers. She tried resigning when Putin invaded Ukraine, but he wouldn't let her. MinFin likes the idea of regulated crypto speculation and taxing the heck out of it, but Nabiullina and the Bank of Russia think crypto is rat poison squared.
This is separate from a ruble CBDC, which seems to be more of a MinFin project than a Bank of Russia project — though obviously, they'd both need to be fully on board.
No, Russia won't replace Swift with the blockchain. Because don't be daft, honestly. The idea appears to be an ambitious plan from the Novosibirsk Institute of Software Systems, a part of state-owned military technology developer Rostec, who have put forward similarly ambitious blockchain plans that went nowhere previously. [FT, free with login]
Your future, our clutter
From 2018 to 2019, there was a crypto news site called Breaker. It was pretty good for a crypto site!
Breaker's most important article was when Corin Faife posed as a PR person, and asked other crypto news outlets if they'd take money to cover a project. Nearly half refused! So that's nice. [Breaker, archive]
Breaker's best article was Laurie Penny's "Four Days Trapped at Sea With Crypto's Nouveau Riche." This was the source of the immortal and snowclonable phrase "John McAfee has never been convicted of rape and murder, but — crucially — not in the same way that you or I have never been convicted of rape or murder." [Breaker, archive]
Breaker shut down in 2019, because its corporate sponsor SingularDTV — which had also rebranded itself as "Breaker" — didn't want to pay for it any more. SingularDTV were going to keep the archive up, but it moved sites occasionally.
SingularDTV was absolutely the dumbest crypto idea, in a highly competitive field of dumb as hell ideas. A bunch of film and TV guys wanted to start a private currency to fund a TV show, about Austrian economics, Ethereum as a national currency, artificial intelligence and the Singularity! Ordinary people would pay for this on pay-per-view, in ETH. Here's the white paper. [SingularDTV, archive]
I first wrote up SingularDTV in 2016 over on Rocknerd — one of my early attempts to explain this blockchain malarkey to musicians. Their fabulous journey then became the very last section of chapter 12 of Attack of the 50 Foot Blockchain in 2017. [Rocknerd]
My last encounter with SingularDTV/Breaker was a 21 February 2020 panel I did at the Science Museum — my last gig before the pandemic lockdown. SingularDTV/Breaker showed their not so great 2018 film "Trust Machine: The Story of Blockchain", which promoted several of their failed ICOs. The film was directed by Alex Winter, but I'm very glad he's since come out hard against this blockchain rubbish. [Science Museum, archive]
At some point, the magazine archive stopped working at all. I noticed recently that breakermag.breaker.io was showing a WordPress "Error establishing a database connection" message. All the other subsites of breaker.io were showing SSL connection errors — their website SSL certificates had all expired in November 2021. Their "blockchain solutions" site no longer loads. Their "productions" page has a "coming soon in July 2021." Their ICO token SNGLS was delisted by Binance in August 2021. [Binance]
It turns out that everyone was fired from SingularDTV, including the founders. Then the founders allegedly kept $50 million in company ETH, originally from SingularDTV's 2016 ICO offering. The case settled with them giving the ETH back. [Unicourt]
Goodbye and LOL to SingularDTV, and at least Breaker's in the Internet Archive.
Our government's built on expense accounts
Nigeria's eNaira CBDC isn't getting so much adoption. The Punch reports that major retailers don't accept the eNaira, and cashiers haven't heard of it and don't know how to accept it. The large payment providers Jumia and Konga don't accept the eNaira either. In a poll, 4% of respondents had used the eNaira — and 64% had never heard of it. [The Punch]
The Central Bank of Nigeria (CBN) and Africa Fintech Foundry (AFF) have opened an eNaira Hackathon. Translation: nobody is using the eNaira. "The newly introduced CBDC (eNaira) would be necessary for the future to ensure a competitive digital economy," for some reason. "Innovators will develop use cases for eNaira in the following target areas: International Remittance, Trans-border payment, Blockchain, Financial Inclusion, Trade (AFCTFA)." So the eNaira is very much a CBDC in the blockchain sense — a fabulous future, and no present use case. [Twitter; AFF X CBN Hackathon]
CBN has added USSN codes to the eNaira, so users can do eNaira transactions via SMS messages on non-smartphones. [Nairametrics]
A future Bank of England CBDC will just be an account with the central bank. "I think it's very unlikely that any of us would issue a retail CBDC as a bearer instrument," said Deputy Governor Jon Cunliffe. The CBDC pounds might be issued by the commercial banks and backed by Bank of England pounds! The Bank's aim is to come up with something that helps consumers — though they didn't detail precisely what consumer needs aren't being met by the cards that are presently issued by the commercial banks. [Bloomberg]
A writeup of Uruguay's 2017 CBDC trial: "Seven lessons from the e-Peso pilot plan: The possibility of a Central Bank Digital Currency" [Elsevier]
"Why would anyone use a central bank digital currency?" asks the Centre for European Reform, setting out the obvious issue — CBDCs don't seem to make much difference to consumers in a world with good commercial bank digital money. The writer suggests setting merchant fees lower — though there's plenty of headroom for the existing payment providers not to gouge as badly as they presently do. [Centre for European Reform]
New facts emerge
Sweden chooses to use its cheap electricity for steel rather than crypto mining: "We need energy for more useful things than Bitcoin, to be honest." [Bloomberg]
The stupid world of crypto memoirs — a fellow sufferer of Bitcoin Widow. "This is a book that, despite its quite brave rendering of harrowing psychic pain, still caused me to generate marginalia like 'so is she most gullible person ever or is book truly revolutionary act of playing dumb?'" [The New Inquiry]
SEC rejects One River's bitcoin ETF application, for the same reasons it's rejected the past several bitcoin ETF applications. [SEC, PDF]
You can tell it's crypto winter because the revenue from crypto ads has utterly dried up. Oh no! Anyway, [Digiday]
You can't get a bitcoin ETF. But you can get an ETF for shorting bitcoin. ProShares' BITI is a dollar bet on the inverse of CME Bitcoin Futures. ProShares also offers BITO, the straight ETF of CME Bitcoin Futures. [Press release]
Charles Arthur: "So I dug into the claim that bitcoin uses less energy than (US? World?) Christmas lights. You won't be surprised that it's untrue, but might be surprised how far back I had to go to find the source of the claim." [blog post]
Living on video
Washington Post on the crypto-skeptics letter that I signed, with quotes from me. "The crypto-skeptics' voices are getting louder: A growing number of tech and financial experts are issuing warnings about cryptocurrency investments. What will their cries mean?" [Washington Post]
Decentralized Pictures is a film crowdfunding platform with a completely gratuitous added blockchain and private currency. The Washington Post ran an excessively positive article on this vanity publishing scam with extra steps, with a quote from me. [Washington Post]
From June: Ethereum suffers brutal drop in value after investors dump $282 million — with quotes from my 60 Minutes Australia interview. This was the dump in May and early June — when whales were frantically selling off ETH to prop up BTC after UST and luna imploded. [News.com.au]
Tech Monitor: When will Ethereum 'merge'? Ethereum's developers say the switch to 'proof of stake' will happen this year. Nobody knows what happens next. With quotes from me, and also from an Ethereum developer who thinks Infura being the 100% centralised chokepoint for Ethereum transactions isn't a problem for Ethereum's claims to be decentralised because, uh, the Ethereum code developers don't use it? OK. [Tech Monitor]
Masculinity and Blockchain with David Gerard — I did an audio AMA with r/menslib, a sub that talks about the problem of toxic masculinity in the world. Crypto has a buttload of that, so we had a lot to discuss. [Reddit, audio]
— Spreek (@spreekaway) June 1, 2022
At last, a way to make trees cause global warming.

— Ian Whelan (@ijwhelan) June 3, 2022
Game recognizes game.

Look, I'm in talks with this brilliant entrepreneur Elizabeth Holmes, she has this medical innovation, just needs some money. Massive potential.

If you google her, you get bunch of FUD and hate, but I've looked into this, she's legit.

— Henrik (@ha1331) June 3, 2022
WOW pic.twitter.com/sUTeg1oxmb

— Joey Politano 🏳️‍🌈 (@JosephPolitano) June 3, 2022
one interesting vibe shift is the rise of "environmentalists". folks who speak out against fossil fuels even when their day job isn't at an oil company. https://t.co/twmWLyZI1X

— Molly White (@molly0xFFF) June 7, 2022
— Buttcoin (@ButtCoin) June 9, 2022
Oh look, AI says blockchain is vaporware. pic.twitter.com/NvoF5Fx4wL

— Concoda 🥷 (@concodanomics) June 10, 2022
okay so people are now speculating that my uncle only *appeared* to pull a dime out from behind my ear and didnt actually discover an unlimited supply back there. its possible. but the fact that he was able to do it so convincingly just shows how close we are to finding one https://t.co/FWISsEX2hO

— frank furtschool (@osamabishounen) June 12, 2022
Satoshis real genius was finding a way to monetize the Dunning-Kruger effect.#bitcoin #crypto #floki

— Morten Tor Nielsen (@mortentor) January 13, 2022
it's really funny to me that there is a guy out there that thinks now is the perfect time to get into cryptocurrency

— transgender marx (@JUNlPER) June 19, 2022
The billboards in Austin for crypto are going down and being replaced with personal injury lawyers once more.

Nature is healing.

— David Logan (@A_DavidLogan) June 20, 2022