Skip to content
How often are you hunched over your laptop or desktop? If your workstation is either one of these then this is for you. Desk jobs do not seem physically strenuous, especially when compared to fieldwork. This does not mean the long hours spent sitting, staring at a bright screen, and moving your fingers on a keyboard have no effect on the body.
While many people have bettered their workstations, very few people upgrade their keyboards.
A poorly designed keyboard coupled with an unnatural posture adopted while typing can cause discomfort or just strain on your shoulders, hands, or wrist. This is where ergonomic keyboards come in.
Their primary purpose is to provide you with a comfortable and safe typing experience. Ergonomic keyboards boast various designs, each best suited to different work needs.
How We Picked
Tilt and Adjustability

The perfect keyboard tilt is at a negative degree which allows for natural angling of the wrists. The bottom of these keyboards is placed higher than the top.

Some keyboards allow you to decide what angle suits you best. A good one should allow you to have your elbows close to your body and your shoulders relaxed.

Extra Support (Wrists)

Some ergonomic keyboards have padded wrist support on them. This gives you an allowance to rest while typing. Some designs are also tented at the middle which allows for similar wrist support.

The good news is that additional wrist support can also be purchased separately.

Wired vs Wireless

A wired keyboard is connected to the computer with a cable. When shopping, choose a long cable for better flexibility.

A wireless keyboard is connected to the computer via Bluetooth and as such allows for movement.

Cost-Effectiveness

Summary of why this is an important feature to keep into consideration when choosing the best ergonomic keyboard
Our Top Picks
The Logitech Ergo K860 might be expensive but it is a worthy purchase and a healthy option too.
This keyboard gets the work done while still taking care of the environment by limiting your energy usage.
Most Cost-Effective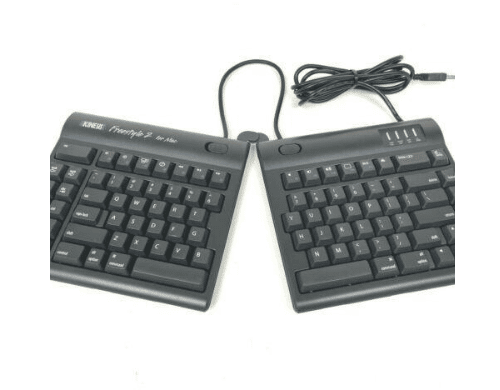 An affordable wired keyboard.
A low-cost keyboard that still supports your ergonomic needs.
Buy Now
We suggest this for a great coin save.
Who This Is For
Do you spend upward of eight hours working on your computer? Are you concerned about your health concerning your working habits? Then this article is for you. We aim to help you find the perfect ergonomic keyboard.
What Is an Ergonomic Keyboard?
Ergonomists specialize in making the work environment friendly to the user instead of the user having to adapt to it. A typical computer keyboard is created for its functionality and not necessarily for the comfort of the user.
In a bid to make the experience better, ergonomic keyboards are designed to accommodate the individual utilizing them. They are customized to suit their owner's needs
Is an Ergonomic Keyboard Worth It?
The rise of technology, particularly computers, meant that the world wide web quickly became the biggest resource center. If you are constantly on your computer, either working or gaming then you need to take care of your health even as you go about your daily tasks.
What Are Ergonomic Keyboards Good for?
These keyboards save you from injuries and strains associated with using the computer for hours on end. To correct your posture, prevent injuries to your wrists, forearms, and hands, and simply ease your computer interaction, then ergonomic keyboards are a worthy investment.
Why You Should Trust Us
You are accessing this information from either your handheld device or your computer.
If you are using the latter then we need to ensure that you, as our client, are safe. If for nothing else other than reading our articles.
How We Picked
By combing through different websites for customer feedback and user experience about the keyboards, we narrowed down some aspects to look out for when searching for the perfect ergonomic keyboard.
Keeping in mind that the main role of the ergonomic keyboard is to provide a comfortable user experience, we examined the wrist support offered by different brands in as much as extra support can always be purchased. This function is essential to the work of this accessory.
As is the case with products, the more aesthetically enhanced the keyboards are, the more expensive they are. With some keyboards having key lights that can be changed or key sounds that can be customized, their price tags reflected these features.
Our Picks For You
Best Pick

–

Logitech Ergo K860
Who It"s For:
This is a perfect fit for anyone who spends a lot of time on their computer and doesn't mind paying more for better quality.
Why It Is Great:
The Logitech ergo k860 is certified for improving strain and posture. It is amazing for hand and wrist support with its sloping keyboard that reduces strain and pillowed wrist support. It is certified for improving muscle strain and posture.
Its keys are perfectly scooped to fit the shape of your fingers.
Potential Flaws:
This keyboard does not boast many added features such as color-coded keys. For the price at which it retails, you might hope for more than the wireless Bluetooth connection or the USB receiver.
Other Features:
All ergonomic keyboards take some time to get used to and this is true for our best pick. It however made it to the top of the list because it is ergonomically approved and certified. It does promote better muscle health with features such as an adjustable palm lift that ensure whether standing or sitting, your wrists are perfectly angled.
This is definitely a worthy investment, particularly because it is designed for precision and comfort. It has customized function keys which are also quiet.
Runner Up

–

Arteck Wireless Solar Keyboard
Who It's For:
Are you a minimalist, a globetrotter, or environmentally cautious? If the answer is yes to any of these, then the solar-powered keyboard is made for you
Why It's Great:
When fully charged, this keyboard will last up to 6 months with an average of 2 hours a day. This is perfect for when you are traveling or have limited to no access to electricity or when you are focused on saving the environment by reducing your energy consumption.
Potential Flaws:
This keyboard is more angled as an energy saver as opposed to as a comfort-providing accessory. The user would need to purchase wrist rests for extra support.
Other Features:
This fairly priced solar-powered keyboard is very easy to use. All that is needed is the Nano USB receiver that you insert into the computer and use your keyboard instantly.
It uses solar or artificial light to charge its batteries.
Once fully charged, it can be used for up to six months. The Keyboard is made of stainless steel coupled with a solar panel, giving it a solid look.
Its keys are set up to allow ease of usage. When typing, it produces little to no noise. In turn, this design allows for ease of usage and comfort.
Most Cost-Effective

–

Kinesis Keyboard

Most Cost-Effective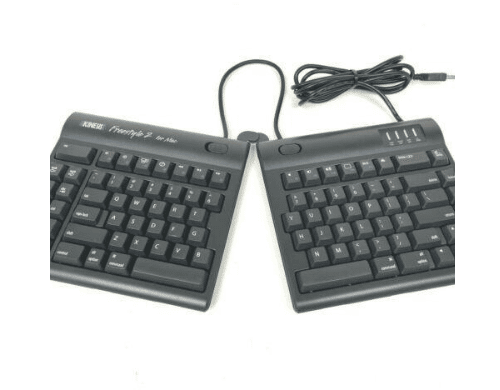 An affordable wired keyboard.
A low-cost keyboard that still supports your ergonomic needs.
Buy Now
Who It's For:
When you care about your wellbeing but the options available are expensive, then this is your perfect accessory.
Why It's Great:
This keyboard retails at a much higher price when brand new. A gently used machine that is certified by a trusted seller is definitely a great save. You get to enjoy the benefits of a superior machine for almost half its price.
Potential Flaws:
Given that it is pre-owned; it might have some defect or other. That this machine is wired also limits its adjustability, however, with its split design, the latter problem is addressed. Because of the keyboard's design, it will produce a sound which, however, means that the typing keys are smooth to use.
Other Features:
Unlike most Ergonomic keyboards, the Kinesis Freestyle 2 maintains the standard windows layout. This means that you will not need to learn your new keyboard but this saves time.
You will not need additional drivers because all you need to do is plug in the keyboard and use it!
As you jump right into this comfortable experience, your keyboard has a membrane key switch which means that you will not need to apply a lot of force while typing.
The feature that makes this keyboard stand out is its split design which accommodates adjustment to your preferred level of wrist comfort.
Almost Made The Cut

–

Cloud Nine ErgoTLK Keyboard
Who It's For:
If you love an interactive user experience, beautiful colors, and fun in general, this keyboard is made for you.
Why It's Great:
The Cloud Nine ErgoTLK is a beautifully crafted accessory that puts fun and health in the same sentence. The Keyboard is customized to fully accommodate you while working or gaming.
Potential Flaws:
This Keyboard did not make it onto our list because of its price. Its beautiful aesthetics and add-ons, such as the aluminum smart wheel are to blame for this. They enhance the experience but they are not necessarily needed.
Other Features:
This is not a cheap accessory by any means. However, its features make it worth the investment. The split keyboard design helps prevent strain while positioning your hands properly to accommodate you.
The padded palm support that is made of memory foam and is curved in vegan leather ensures that your hands are well supported while resting. This support also comes off easily for cleaning. The tented keyboard design also ensures palm comfort.
With the turn of the aluminum smart wheel, you can browse different tabs, change the keyboard color, increase or decrease the volume, and switch applications amongst other things.
The switches on this keyboard ensure minimum effort is applied thus creating a smooth typing experience. Owing to its adjustable tilt, you can use this accessory while seated or standing.
Care and Maintenance
Gently turn upside down and tap to remove dust and small debris. Use compressed air or a dusting brush to remove the loose dirt on the keyboard.
Use disinfectant products with a high alcohol percentage as advised by Covid 19 specialists by dubbing the disinfectant on a cloth or cotton swab and then cleaning the surface. You can use a damp cloth that doesn't have loose water to gently clean your keyboard.
When you clean ensure that the keyboard is unplugged and its batteries removed
Keep drinks away from your computer.
Do not apply moisture to the keyboard directly. Instead, use a cotton piece or a lint-free cloth.