InvestorPlace – Stock Market News, Stock Advice & Trading Tips
The native cryptocurrency for AIOZ Network (CCC:AIOZ-USD) is surging in trading today after the network reached 20,000 nodes earlier this week. AIOZ-USD is up more than 20% over the past 24 hours.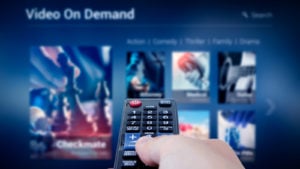 Source: Shutterstock
AIOZ Network uses the blockchain to make high-quality video streaming more efficient, in terms of both data usage and costs. When you stream a video, typically that video is supplied by a single, central Content Delivery Network (CDN). AIOZ Network is a Decentralized Content Delivery Network (dCDN), which means a video is streamed via peer-to-peer nodes. That makes the network more reliable and efficient, while reducing both computational and overhead costs.
Yesterday, AIOZ announced it had reached a milestone of 20,000 nodes on its network. For comparison, and emphasizing that nodes on other blockchains function very differently, the Bitcoin (CCC:BTC-USD) network had just under 10,000 reachable nodes at time of writing. Furthermore, AIOZ Network said it had more than 50,000 community members and more than 20,000 token holders.
Today, AIOZ Network announced a partnership with social video app Omni. Two weeks ago, AIOZ Network announced it was dropping several patents in the spirit of collaboration.
AIOZ Network (AIOZ) Price Predictions
With AIOZ-USD currently trading around $1.30, where will AIOZ Network go next? Here are some AIOZ Network (AIOZ) price predictions:
On the date of publication, Vivian Medithi did not have (either directly or indirectly) any positions in the securities mentioned in this article.
The post AIOZ Network (AIOZ) Price Predictions: Where Will the AIOZ Crypto Go Next? appeared first on InvestorPlace.
The views and opinions expressed herein are the views and opinions of the author and do not necessarily reflect those of Nasdaq, Inc.