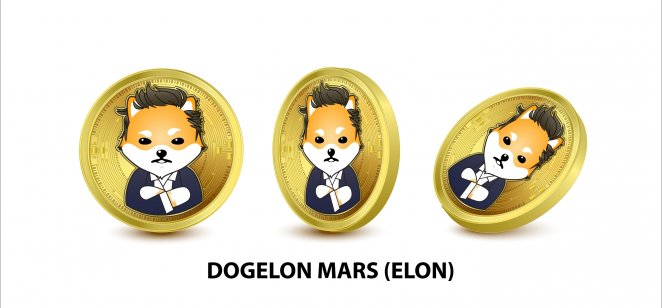 The dogelon mars (ELON) token attempted to break out over the weekend, but retreated on Tuesday as cryptocurrencies sold off sharply, along with equities.
The dog-themed memecoin has plunged by 82.5% since the start of the year, and 22.4% in the past month, with cryptocurrencies having remained bearish since the highs of last November.
Is now the time to buy or go short on the meme-driven cryptocurrency for the best future investment returns? Read on to find out the project's background, as well as the latest dogelon coin news and price predictions.
Dogelon mars takes memecoin into DeFi
What is the dogelon mars coin? Like the other dog-themed memecoins, including dogecoin (DOGE), shiba inu (SHIB) and floki inu (FLOKI), dogelon mars cryptocurrency plays on the popular Internet meme based on the Shiba Inu dog, but adds tongue-in-cheek references to Elon Musk and cryptocurrency prices rallying 'to the moon'.
Dogelon mars was created by an anonymous community of developers to run on the Ethereum and Polygon blockchain networks. ELON launched in April 2021 on the Uniswap decentralised exchange (DEX).
On 23 April 2021, ELON's developers tweeted that the community had agreed to airdrop 734 million ELON tokens to every individual who had lost money on the WOGE token rug pull. 
A rug pull is when a cryptocurrency project's developers promote their project and then withdraw all liquidity, sending the price to zero. On 16 May, the community issued an airdrop of more than 72.7 million tokens following the CUBACOIN rug pull.
The dogelon mars project saw over $100m in volume traded within 24 hours on 25 April amid the launch of its first Dogelon Mars comic non-fungible token (NFT) on the OpenSea marketplace. With cryptocurrency markets rallying in May 2021, ELON reached 50,000 holders by the middle of the month.
My dear community, we are on our way to Mars – together we will reach the stars. You took the crypto world by storm this past Thursday with over $100 million in $ELON volume within 24 hours.

— Dogelon Mars (@DogelonMars) April 25, 2021
Dogelon mars was launched with a maximum supply of 1 quadrillion coins, 50% of which the founders locked to the Uniswap exchange. 
The other 50% was sent to Ethereum co-founder Vitalik Buterin, in the same way that the creators of dogecoin sent DOGE to Buterin's cryptocurrency wallet. Buterin subsequently burned and donated his DOGE holdings, stating that he did not want the power of holding large amounts of other projects' coins.
On 25 May 2021, biomedical charity Methuselah Foundation said it had received 43% of the ELON supply in a donation from Buterin. The Foundation said that it would:
"Manage those holdings to maximise the $ELON's long-term value in order to advance the Foundation's mission… the May 12 gift surprised the fast-growing Dogelon Mars community, which had expected Buterin to permanently retain his $ELON holdings – removing them from circulation. The donation raised liquidity concerns for the $ELON, threatening its value.
"Today, Dogelon is viewed as a highly speculative investment. We hope that our stewardship will maximise its value so that it can contribute to the life-lengthening work we are committed to."
The foundation said it would hold the ELON coins for at least a year.
On 16 August 2022, the Methuselah Foundation announced that Everest Health, which offers the Methuselah health protocol, is now accepting ether and dogelon mars for payment.
In October 2021, the ELON developers announced plans to enter the decentralised finance (DeFi) and non-fungible token (NFT) ecosystems with the launch of an xELON token and a collection of NFT characters. The xELON coin launched in November as a governance token with a DeFi earning protocol and staking incentive.
Users who stake their ELON or ELON/WETH liquidity pool tokens receive xELON as a reward and can use it to vote on initiatives and other decision making.
The project's first DeFi partnership was with decentralised market maker Popsicle Finance on the Ethereum network.
The ELON token does not have the utility level of other cryptocurrencies, such as dogecoin, which is accepted by a growing number of merchants. But it has attracted the interest of large cryptocurrency investors, known as whales.
The top 100 whales hold an average of 5.4 trillion ELON tokens, at an average value of $1.47m, according to data compiled by crypto tracking service WhaleStats. On 8 September, a whale transferred 4.99 trillion ELON tokens valued at $1.39m from the Gate.io exchange to an Ethereum wallet.
How did these developments drive the ELON coin price and what do the mean for the dogelon mars crypto price prediction?
ELON price drops in crypto winter
The dogelon token price soared from its 23 August 2021 launch price of $0.00000005 to peak at $0.00000232 on 11 May, a gain of 4,540% as cryptocurrency markets rallied. The price fell to $0.00000056 the next day and traded below $0.0000001 from June until October.
With meme and metaverse tokens rallying in October into November, the chart shows ELON soared to $0.000002599 on 30 October, dropped to $0.000001235 on 3 November and spiked to $0.000002182 on 7 November. 
The price remained volatile heading into 2022, dropping in late November, rallying again in early December and then falling on 22 January to its lowest level since late October.
ELON/USD was unable to hold onto the gains in early February and traded down to $0.0000006613 on 15 March. The price climbed to $0.000001264 on 28 March, dropped to $0.0000007431 on 18 April and spiked to $0.000001214 on 20 April as its namesake, Tesla founder Elon Musk, attracted headlines for offering to buy social media platform Twitter (TWTR). 
On 22 April, Simplex added support for users to purchase ELON with fiat currency. On 27 April, ELON was among nine crypto tokens supported following the launch of Binance Bridge 2.0, which enables users to deposit the tokens on existing networks and withdraw the corresponding BEP-20 tokens.
The price then plunged in May, reaching $0.0000005332 on 12 May as cryptocurrency markets reacted to the collapse of the Terra Luna ecosystem. Bearish sentiment continued to pull prices lower and ELON traded down to $0.0000002228 on 19 June. A brief spike to $0.0000004267 on 25 June failed to hold and the token has trended down from the $0.0000003 level in August to the $0.0000002 range in September.
What is a realistic projection for the dogelon mars price? Will the token be able to stage a breakout, or will the price retreat? We look at expectations for the crypto from forecasting sites.
Dogelon mars price prediction: What direction will the price trend take?
At the time of writing (14 September), technical analysis from CoinCodex showed that the outlook for the ELON price was bearish, with 23 indicators showing bearish signals and one bullish, the volume-weighted moving average (VWMA).
CoinCodex's short-term dogelon mars price prediction was also bearish, indicating that the token could drop 20.41% to $0.0000002162 by 19 September and trade at 0.0000002856 in a month.
Algorithm-based forecast service Wallet Investor's dogelon mars price prediction for 2022 was bullish, projecting the coin could move up to $0.000000349 by the end of the year. The ELON token price prediction showed it could then trade up from $0.000000388 at the end of 2023 to $0.000000534 by the end of 2025.
DigitalCoinPrice's ELON coin price prediction also saw the price trending higher, averaging $0.000000351 in 2022 and $0.000000615 in 2023, based on historical data. The crypto data service's dogelon mars price prediction for 2025 indicated the price could rise to $0.00000108, and then reach an average of $0.00000380 in 2030.
Price Prediction's ELON crypto price prediction had the coin rising at a faster pace later in the decade, averaging $0.00000032 in 2022 and $ 0.00000058 in 2023. The dogelon mars price prediction for 2030 from the website's deep artificial intelligence-assisted technical analysis showed the price rising to $0.00000675, from $0.00000121 in 2025.
The ELON price prediction from Gov Capital was the most bullish. The website projected that the token could reach a target price of $0.000008 by the end of 2025, up from $0.000002 at the end of 2022, based on its deep learning technical analysis.
When looking for a dogelon mars price prediction, it's important to keep in mind that cryptocurrency markets remain extremely volatile, making it difficult to accurately predict what a coin's price will be in a few hours, and even harder to give long-term estimates.
If you are considering investing in cryptocurrencies, we strongly recommend that you always do your own research, not just relying on a single dogelon mars crypto price prediction. Look at the latest market trends, news, technical and fundamental analysis, and expert opinion before making any investment decision. And never invest money that you cannot afford to lose.
FAQs
Is dogelon mars a good investment?

In volatile cryptocurrency markets, it is important to do your own research on a coin or token to determine if it is a good fit for your investment portfolio. Look at the latest market trends, news, technical and fundamental analysis, and expert opinion before making any investment decision. Whether the dogelon mars coin is a suitable investment for you will depend on your risk tolerance and how much you intend to invest. And never invest money that you cannot afford to lose.
Will dogelon mars go up or down?

The direction of the ELON price could depend on the popularity of memecoins among cryptocurrency investors, as well as overall market sentiment.
How many dogelon mars coins are there?

There are currently 547.63trn ELON tokens in circulation, out of a maximum supply of 1 quadrillion. That gave the token a market capitalisation of $149.18m at the time of writing (14 September), ranking it as the 160th largest cryptocurrency.
Should I invest in dogelon mars?

How you invest is a personal decision depending on your risk tolerance and investing strategy. You should do your own research to take an informed view of the market and decide whether ELON is an appropriate fit for your portfolio.

Look at the latest market trends, news, technical and fundamental analysis, and expert opinion before making any investment decision. And never invest money that you cannot afford to lose.
Related reading