Uniswap price retreated on Wednesday even after some positive news about the network. The UNI token pulled back to a low of $6, which was about 7% below the highest level this week. This price is about 27% above the lowest level this month.
Uniswap overtakes Coinbase
Uniswap is the biggest player in the decentralized exchange (DEX) industry. It is a pioneer platform that makes it possible for people to buy and sell cryptocurrencies in a decentralized manner.
Unlike centralized companies like Coinbase and Binance, most decisions in Uniswap are made by token holders. It is also a transparent entity since its operations are mostly open source.
Therefore, some analysts believe that DEXes like Uniswap, PancakeSwap, and dYdX have a better chance of survival than centralized platforms. In fact, while CEX companies like FTX and Voyager Digital have collapsed, no major DEX has gone out of business this year.
Find out how to buy Uniswap.
Meanwhile, volume in Uniswap has overtaken that of Coinbase. Data compiled by CoinMarketCap shows that the volume in Uniswap's V3 was $957 million. Combined, V3 and V3-Polygon, the volume rose to over $1.08 billion. In comparison, the total ETH volume traded in Coinbase was about $600 million in the past 24 hours.
Uniswap has a total value locked (TVL) of more than $3.3 billion, making it one of the biggest players in the DeFi industry globally. Its volume has held quite well in the past few days.
Still, the main challenge for Uniswap and other DEX platforms is that they are relatively difficult to use for mainstream. For example, they don't have mobile applications where one can buy and sell cryptocurrencies. Also, many people have concerns about trust in the ecosystem.
Uniswap price prediction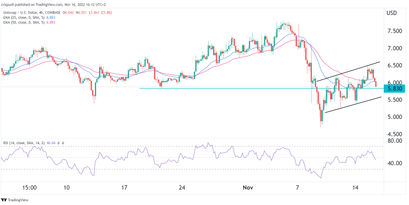 The four-hour chart shows that the UNI price has formed an ascending channel shown in black. This pattern seems like a bearish flag pattern. On Wednesday, it managed to move below the upper side of this channel. It also moved below the 25-day and 50-day moving averages.
Uniswap is also nearing the important support at $5.83, which was the lowest level on October 21st. The Relative Strength Index has moved slightly below the neutral point of 50.
Therefore, there is a likelihood that the coin will continue falling as sellers target the key support level at $5. A move above the resistance point at $6.2 will invalidate the bearish view.