Wayne Arnott and Louise Boucher were found in their des Érables Ave. home. Mitchell Arnott was arrested after showing up at a hospital wearing bloody clothes.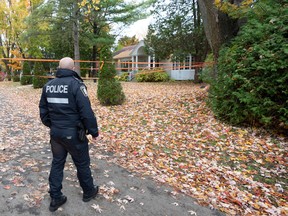 Article content
by Paul Cherry and John Meagher
Article content
The northeastern tip of Île-Bizard is a sleepy corner of the island, where nature and suburbia make for quiet neighbourhoods and, come autumn, lawns covered in fallen leaves the colour of pumpkins.
Article content
On Thursday, the wet leaves matched the colour of orange police tape that roped off the waterfront home at 271 des Érables Ave., where a 65-year-old woman and a 60-year-old man were found dead the night before.
The male victim was later identified as Wayne Arnott, a well-known figure in the West Island. Arnott was the smiling, energetic manager of the venerable Bluenose Collectibles shop in the Pointe-Claire Plaza.
The second victim was identified as his partner, Louise Boucher.
On Thursday afternoon, their 29-year-old son, Mitchell Arnott, was charged with two counts of second-degree murder in connection with their deaths.
Article content
According to Montreal police spokesperson Jean-Pierre Brabant, the son was arrested shortly after he showed up at a local hospital wearing bloody clothes. Hospital staff alerted the police, who then arrested him.
Brabant said two officers found the victims at around 9:30 p.m. on Wednesday night with "marks of violence" on their bodies.
"It seems there was an altercation in the home that escalated," Brabant said. "We were later able to confirm it was an inter-family (altercation)."
Mitchell Arnott made a brief appearance before Quebec Court Judge Geneviève Gratton at the Montreal courthouse on Thursday. He was represented by defence lawyer Michael Morena, acting on behalf of attorney Tom Pentefountas.
Gratton agreed with a request to have the case carried over to Nov. 16. Arnott is unable to seek a bail hearing until the case is transferred to Superior Court.
Article content
"Mr. Arnott, so far the evidence received is just the basics. We have to receive more of it so we can go through it," Morena told the accused while he was detained at a Montreal police operations centre.
Arnott does not have a criminal record, but on June 9 he was acquitted in a case at the Montreal courthouse where he was charged with assault and uttering threats. He has another case pending at the same courthouse in which he is charged with violating a release condition while he was charged with assault.
In 2018, he was acquitted in a different assault case.
According to the suspect's Facebook page, he studied at Concordia University and John Abbott College.
A little over six months ago, he wrote in an Instagram caption that he "began the journey to rebuilding the relationship with my mother and father."
Article content
"Going to focus on the positives instead of what was not perfect," he wrote.
Nearly eight months before that, he posted a photo of a psychiatrist, accusing him of being corrupt for supposedly entering his room with a prescription and "refusing to explain."
"It is the exact type of behaviour in society that needs to be stopped," Mitchell wrote at the time. "These people are Not doctors! They are corrupt pieces a part of a bigger system."
Arnott and Boucher are the 30th and 31st homicides of the year in Montreal. Their deaths left neighbours in Île-Bizard in shock on Thursday, with some expressing disbelief.
Lazé Leskaj lived directly across the street from the family and never saw any signs of conflict at the home.
"They lived alone and always seemed happy. They were friendly neighbours," Leskaj said, noting he only recalls speaking to their son once when he came over to ask if he could mow Leskaj's lawn.
Article content
Leskaj said he was at home with his wife on Wednesday, but they did not see or hear anything out of the ordinary at the tidy home across the street.
"My wife and I are in shock," he said. "We could not sleep last night with all the police cars on our street and then finding out (a double homicide) took place."
For many Montrealers who shopped at Pointe-Claire Plaza, often referred to as the 'Shops', Wayne Arnott was the face of the Bluenose business his father Ross first opened in 1964 on Queen Mary Rd.
The coin and stamp shop moved to the West Island a few years later and morphed into a popular collectibles destination for trading cards, sports memorabilia and video games.
Peter Grant, who operates Ted's Hobby Shop in the same plaza, said shoppers and merchants were devastated by the news.
Article content
"Everybody is in total shock, across the board," said Grant, who has known the Arnott family for decades. "Wayne was always so full of energy, always going 100 miles an hour."
In an interview, Dave Stubbs, a former columnist with the Montreal Gazette and current columnist with NHL.com, said he came to know Arnott through the store.
"Wayne was usually wearing a hockey jersey of some kind and he was always blustering around the store. He was was ferociously proud of how it was 'a beautiful mess,' as I called it, because he literally could have used a pitchfork to find something," Stubbs recalled.
"The store was an absolute treasure for me and he was the heart and soul of the store," he continued. "It's a terrible tragedy because there are very few people on the West Island who ever went through that plaza who did not know Wayne, if not from talking to him, then by face, just by the energy he had."
Bluenose was closed Thursday and people had started leaving flowers outside the store.
Katelyn Thomas of the Montreal Gazette contributed to this report.