The Emblem vault aims to create a "wallet in a token", but what is circuits of value (COVAL)? 
Let's see what we can find out and take a look at some of the circuits of value price predictions that were out there on 16 August 2022, too. 
Circuits of value explained
It may surprise newcomers to cryptocurrency and blockchain technology that there are many different products available, not just different cryptocurrencies, but different kinds of cryptocurrencies. There are coins, which are based on their own blockchain, and there are tokens, which are based on a blockchain that is not controlled by the originators of the token. There are also non-fungible tokens (NFTs), basically the rights to links to individual pieces of digital artwork. With such a range of crypto-commodities available to buy and sell, it can be inconvenient to trade a variety of products at the same time. 
One potential solution comes in the form of the Emblem Vault. This platform is designed to help people bundle their crypto-related products into one place, called a vault or composite token, which can then be bought, sold and traded. It is, effectively, a kind of crypto zip file, which is compressed and then decompressed. While the platform has been around in one form or another for a little while now, at the time of writing (16 August 2022), these composite tokens come in the form of NFTs. 
Every blockchain-based platform needs to have its own native token, and Emblem Vault has circuits of value, also known by its ticker handle, COVAL. This token has actually been around for longer than Emblem Vault has been available for people to work with, launching onto the open market in 2015, while Emblem Vault came out in 2019. Circuits of value is mainly used to purchase vaults on Emblem Vault. Both the Emblem Vault and circuits of value were founded by the same person, the North Carolina-based web developer Shannon Code.  
Neither Emblem Vault nor circuits of value have their own whitepapers. There is an archive of a COVAL whitepaper, but it dates from 2018. This might prove a concern for potential investors who might want to know more details of what it is they are putting their money into. Perhaps more to the point, it might also worry people who want to make use of the undeniably interesting potential usage of the Emblem Vault platform. 
Because the circuits of value crypto is based on the Ethereum blockchain, it is a token, rather than a coin. You might see references to such things as the COVAL coin or a circuits of value coin price prediction, but these are, strictly, inaccurate. 
Circuits of value price history
COVAL price history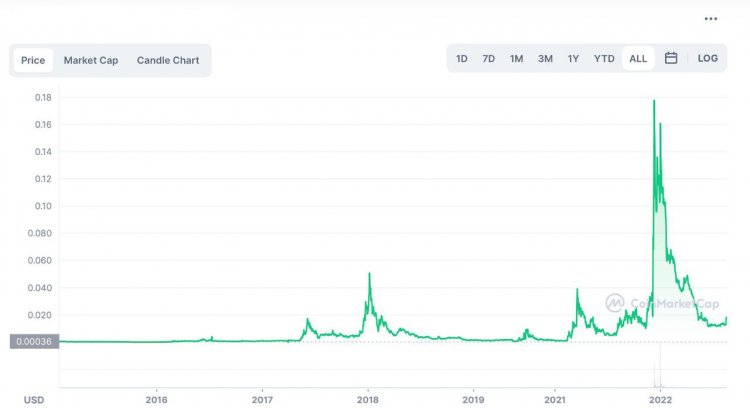 Source: CoinMarketCap
It's now time to cast our eyes over COVAL's price history. While past performance should never be taken as an indicator of future performance, knowing what the token has done in the past can help us get some perspective if we want to either interpret an already existing circuits of value price prediction or else make one of our own.
Circuits of value has been trading on the open market since February 2015, when it was worth about $0.0003. It basically stayed around that point before it sank to its all-time low of $0.00001037 on 31 March 2017. There were better times ahead, though, with COVAL breaking past the cent for the first time in June 2017. 
It peaked at above $0.04 in January 2018 but sank back until early 2021, when the market went through a boom, as American Covid-19 stimulus cheques hit the cryptosphere. COVAL responded well to the bullish market, topping $0.02 in March. The after-effects of the Great Crypto Day Crash of 19 May 2021 saw it spend most of the rest of the year in the doldrums. Early December saw the news that COVAL was not only to be integrated with the Solana (SOL) blockchain, but also that it was to be available on the Coinbase (COIN) exchange.
API3, BLZ, COVAL, GODS, IMX, MDT, MUSD and RBN are now live on https://t.co/iQARfimGvY & in the Coinbase iOS & Android apps.

Coinbase customers can log in now to buy, sell, convert, send, receive or store API3, BLZ, COVAL, GODS, IMX, MDT, MUSD and RBN. https://t.co/QoUrnuquZT pic.twitter.com/23JfIXNM8m

— Coinbase (@coinbase) December 9, 2021
 This helped the token jump from a low of $0.0157 on 5 December to a high of $0.2585 on 10 December, a rise of more than 1,500% over the course of five days. The price then settled down to close the year at $0.1608.
Things have been less good in 2022. Although the token hit an all-time high of $133.01 on 19 January, for most of the first few months of the year it struggled to top $0.10. In the wake of Russia's invasion of Ukraine, COVAL slumped to $0.03911. It rose to a high of $0.05293 on 3 April, but the depegging of the UST stablecoin and the collapse of the associated LUNA cryptocurrency saw it sink to $0.01581 in May, and. $0.01095 in July. On 16 August, however, despite having closed the previous day at $0.01272, by the late morning it was worth about $0.016. 
At that time, there were just under 1.79 billion COVAL in circulation, representing the total supply. This gave it a market capitalisation of about $28.5m, making it the 537th largest cryptocurrency by that metric. 
Circuits of value price predictions
Let's take a look at some of the circuits of value price predictions that were being made as of 16 August 2022. It is important to note that price forecasts, especially for something as potentially volatile as cryptocurrency, are very often wrong. 
TradingBeasts had a COVAL price prediction that suggested the token could drop in price over the next few months, closing 2022 at around $0.01776. By August 2023, the site said, COVAL could be worth about $0.0185782, while 12 months on from then the prediction was for it to be potentially trading at around $0.027. The site then went on to make a circuits of value price prediction for 2025 that saw the token start the year at $0.0297, before reaching $0.0325 in August and potentially closing the year at around $0.03395.
PricePrediction made a circuits of value crypto price prediction that saw it possibly drop in the short term, reaching $0.016 at some point in 2022, before potentially rising to $0.022 next year, $0.031 the following year and $0.044 in 2025. By 2026, the site suggested, the token could be worth $0.063 and it could, according to the forecast, reach $0.092 in 2027. In 2028, the prediction suggested that COVAL could break through the $0.10 barrier to reach $0.13 before closing the decade at a potential $0.18. The site made a circuits of value price prediction for 2030 that saw it possibly worth $0.27 before it could reach $0.37 in 2031.
Meanwhile, CoinsKid had a circuits of value price prediction for 2022 that said the token could close the year at around $0.0275. The site also said that, by August 2023, the COVAL token price could stand at an average of $0.0351 before potentially rising to reach $0.0498 a year from then. In August 2025, the forecast was for circuits of value to be worth about $0.0699, while in the same month in 2026, the site said the token could be worth about $0.1152, while the price in November that year could reach about $0.14.
Finally, WalletInvestor made another pretty bullish circuits of value token price prediction, saying COVAL could be worth $0.0386 in August 2023 before arguing for it possibly reaching $0.131 in five years time. 
When considering a COVAL token price prediction, it is important to keep in mind that cryptocurrency markets remain extremely volatile, making it difficult to accurately predict what a coin or token's price will be in a few hours, and even harder to give long-term estimates. As such, analysts and algorithm-based forecasters can and do get their predictions wrong.
If you are considering investing in cryptocurrency tokens, we recommend that you always do your own research. Look at the latest market trends, news, technical and fundamental analysis, and expert opinion before making any investment decision. Keep in mind that past performance is no guarantee of future returns. And never trade with money that you cannot afford to lose.
FAQs
How many circuits of value are there?

On 16 August 2022, there were 1,786,752,136 COVAL in circulation, representing the total supply.
Is circuits of value a good investment?

COVAL aims to power a system which makes trading a variety of products easier. However, investors should be aware that it has no whitepaper, which might serve as a red flag. 

Remember, you should always carry out your own thorough research before making an investment. Even high market cap cryptocurrencies have proved vulnerable to the current bear markets. So investors should be prepared to make losses and never purchase more than they can afford to lose.
Will circuits of value go up?

At the time of writing, some forecasts such as WalletInvestor's, were optimistic, while others such as Trading Beasts were bearish. But then again forecasts can very often be wrong. 

In volatile cryptocurrency markets, it is important to do your own research on a coin or token to determine if it is a good fit for your investment portfolio. Whether COVAL is a suitable investment for you depends on your risk tolerance and how much you intend to invest, among other factors. Keep in mind that past performance is no guarantee of future returns. And never invest money that you cannot afford to lose.
Should I invest in circuits of value?

This is a question that you will have to answer for yourself. Before you do so, however, you will need to conduct your own research and never invest more money than you can afford to lose because prices can go down as well as up.
Related reading