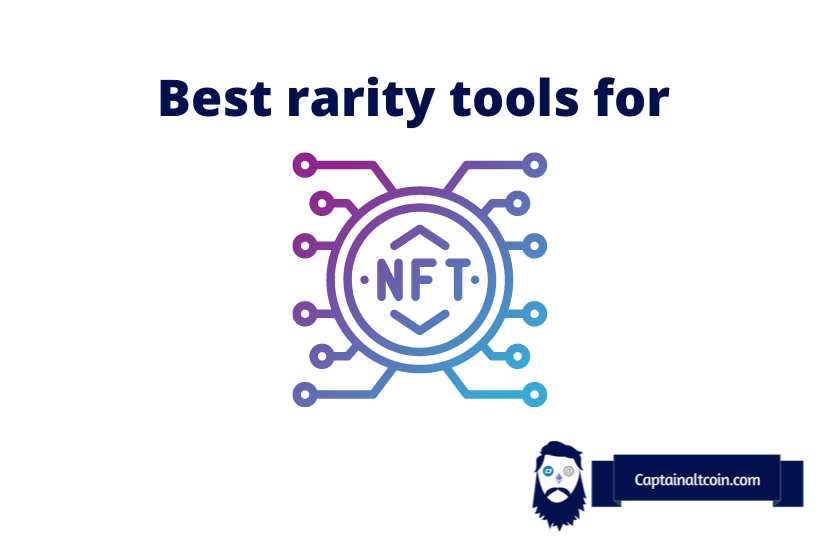 Use a good rarity tool or rarity sniffer to find a rare NFT gem early and your life will turn upside down in a matter of weeks – all your (materialistic) dreams will come true, and you'll live happily ever after. That's at least how it is portrayed on social media but we know there is more to life than that … BUT, I digress into philosophy which is surely not why you're here.
Back on track – what tools to use to sniff out a good, rare NFT gem that will make you rich? Read on, we will list a lot of them below.
NFTs are becoming increasingly popular across the crypto world. There are many different types of collectibles out there, ranging from digital tokens to physical items like art prints. But one thing most of these collectibles have in common is scarcity. This means that the number of unique copies of each item is limited. In fact, some of the most valuable cryptocurrencies today — such as Bitcoin and Ethereum — are scarce because of their limited supply.
What Is NFT Rarity, and why does it matter?
---
So how do we define rarity? Is it simply a matter of demand versus supply? Or does it come down to the type of asset you're talking about?
The rarity of an NFT affects how precious and unusual it is. Since truly rare NFTs are highly prized by collectors, their price increases. People, therefore, want to know whether the NFT they currently hold or the one they intend to buy is rare.
Traits are properties of the collection, backgrounds of the NFT, accessories, clothing, skin, facial features etc. Each NFT collection has its own set of traits, and calculating rarity will be valid for that collection only.
Let's take a look at two examples to see what makes something "rare." In the digital world, blockchain tech made a huge breakthrough as it paved the way for cryptocurrencies, which managed to introduce scarcity for the digital assets.
In the offline world, art has a millenniums long history of being appreciated due to its rarity and limited nature.
1. Cryptocurrency Tokens
---
Cryptocurrencies are generally considered to be rare because of their limited supply compared to traditional currencies. There will only be 21 million bitcoin ever minted. Some other coins have even lower supply cap than that.
As for the NFTs, they are usually minted in collections where each unit has a set of traits. The more rare (less common) those traits are, the more valuable that individual NFT is.
That is what makes some NFTs sell for millions while others sell for less. It all comes down to rarity. NFT rarity determines how rare and valuable an NFT is. Collectors highly prize truly rare NFTs, which makes them more expensive. Consequently, people want to know whether the NFT they own is rare or the one they plan to purchase is rare.
2. Art Prints
---
Art prints are another great example of a rare cryptocurrency asset. They're often sold for millions of dollars, and even though thousands of artists worldwide produce artwork, there's still only a finite amount of high end, rare art being produced.
Best Rarity Tools You Need to Find NFT Rare Gems
---
Each of the rarity tools we list below has its own method for calculating the rarity score of an NFT. Some of them are better than the others and further refinement and development of those calculation models is critical. That is why you should pay attention which ones are actively developing their product as they are more likely to be superior to the ones that don't do it.
Rarity.tools
---
One of the most popular tools for determining the rarity of collectibles is Rarity.tools. Rarity.tools allow users to filter by average price, total number of owners and top collections to find rarer items.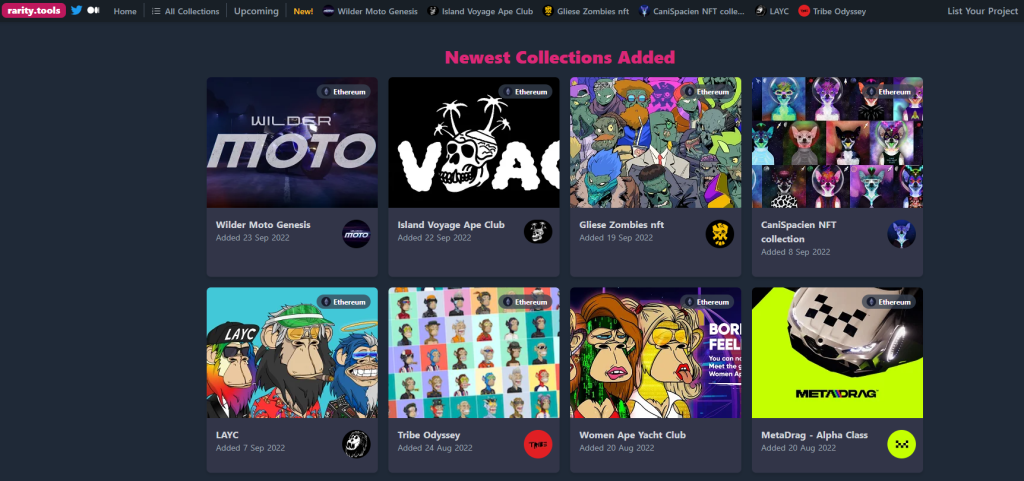 Aside from that, the website offers a simple and attractive interface making it easy to find rare traits. Users can sort all the NTFs on Rarity.tools by collecting them into different categories such as Collections, Average Price, and Top Collectors.
On the NFT collection page, you can find the overall rarity of that particular collection. This includes the number of unique traits, how many people hold each item, and the average price per trait.
Trait Sniper
---
To find details about new NTF projects, you can use the rarity sniper tool called Trai Sniper. Detailed information is provided about ongoing and upcoming NFTs, including those that are still being developed. For example, some NFTs have been announced but haven't launched yet, and this tool keeps track of them.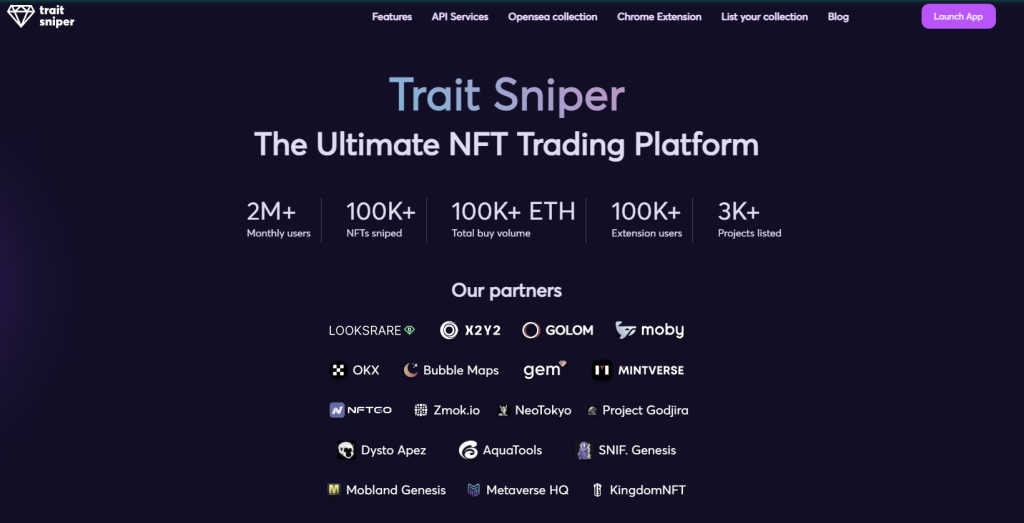 Taking less than two minutes per project to be revealed, Trait Sniper analyzes the rarity of every NFT. Users can view the highest offer price, opensea highest bid on each NFT, and the rarity rank. There is even a free version of the tool, which provides basic functionality. However, the paid version offers real-time notifications on newly revealed and scored NFTs, allowing users to track projects as soon as they're listed.
Cryptoslam
---
The CryptoSlam team has announced the launch of their public API. This allows anyone to access the data behind the NFT rankings and rarity calculations. As part of the announcement, the team also released a web application called NFT Ranking Tool (NFT). With it, users can easily compare different tokens and see how they stack up against one another.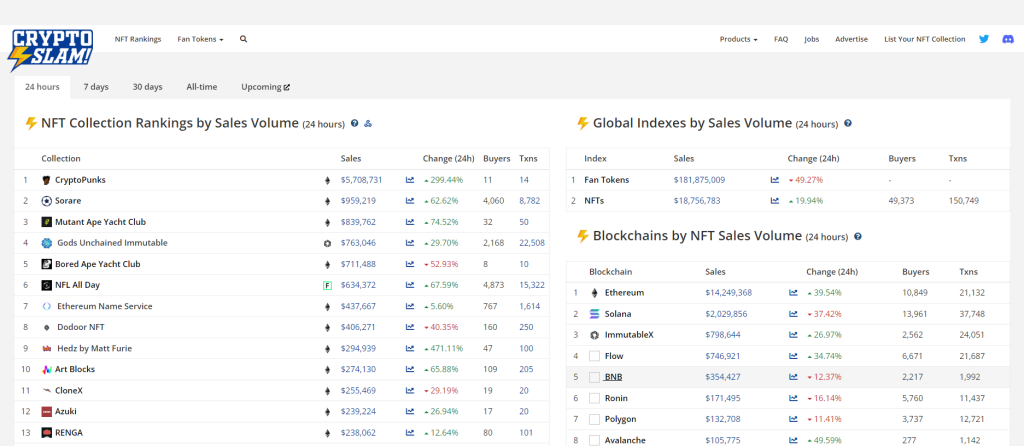 In addition to providing a detailed overview of each individual token, the NFT tool includes a section dedicated to the NFT Rarity function. Here, users can learn about each type of NFT rarity, such as rare, very rare, ultra rare, etc., along with the percentage of total supply represented by each rarity level.
OpenSea
---
Opensea is the most prominent marketplace for non-fungible tokens (NFTs). The project makes it easy for anyone to buy, sell, and trade NFT assets across multiple blockchain networks. Its goal is to provide a single place where people can find, purchase, and trade NFT items regardless of what network they are stored on.
In September 2022, NFT marketplace OpenSea said it was adding OpenRarity, a protocol that lets NFTs on its platform have their rarity calculated in a way that can be checked. The protocol uses a clear mathematical method to figure out how rare something is.
OpenSea said that NFTs that are rare will get low numbers like 1 or 2, while NFTs that are similar to a lot of other NFTs will get higher numbers. With this, the marketplace made it clear that buyers of NFTs would be able to see a reliable "rarity ranking."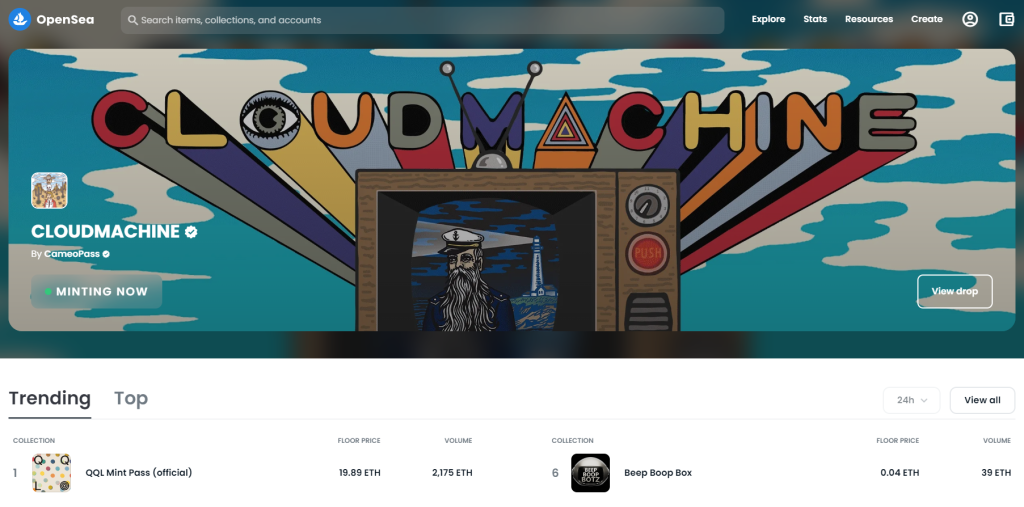 Users can view NFT ranks based on volume and other statistical factors like floor price, thanks to Openseas' NFT ranking capabilities. The website may not be able to determine an NFT's rarity score or even its overall rarity rank, even though you may browse NFT attributes and each trait's rarity.
Nansen
---
Nansen is an AI-powered tool designed to analyze and track the performance of different NFTs. The platform allows users to identify opportunities in the NFT market by providing a leaderboard of the most profitable NFT wallets.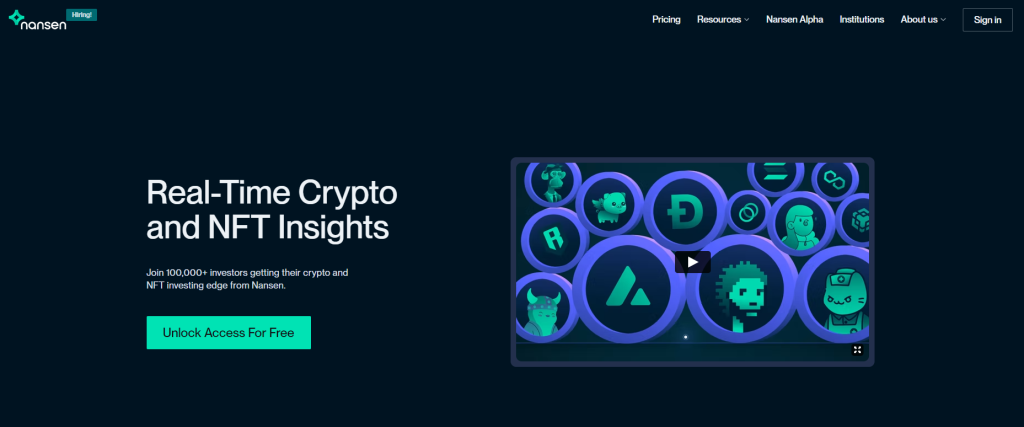 The data is collected from multiple sources, including exchanges, social media, news outlets, and blogs. In addition, the platform uses machine learning techniques to provide insights into how each wallet performs based on its trading volume, price movements, etc.
This unique feature makes it possible to track the performance of individual projects and determine whether you want to invest in them. The application also serves as an investment tracker and wallet analyzer, allowing users to keep up with their investments or spy on what others are doing. This is especially useful for tracking whale activity and anticipate larger price swings in the crypto market.
NFTBank
---
NFTBank provides instant insights into the performance of your NFT portfolio. With it, you can track your investment in real-time and see how much money you are making or losing. You can even set up alerts to notify you when certain conditions occur. NFTBank gives you access to detailed data about your NFT portfolio, including its value, price, and transaction history.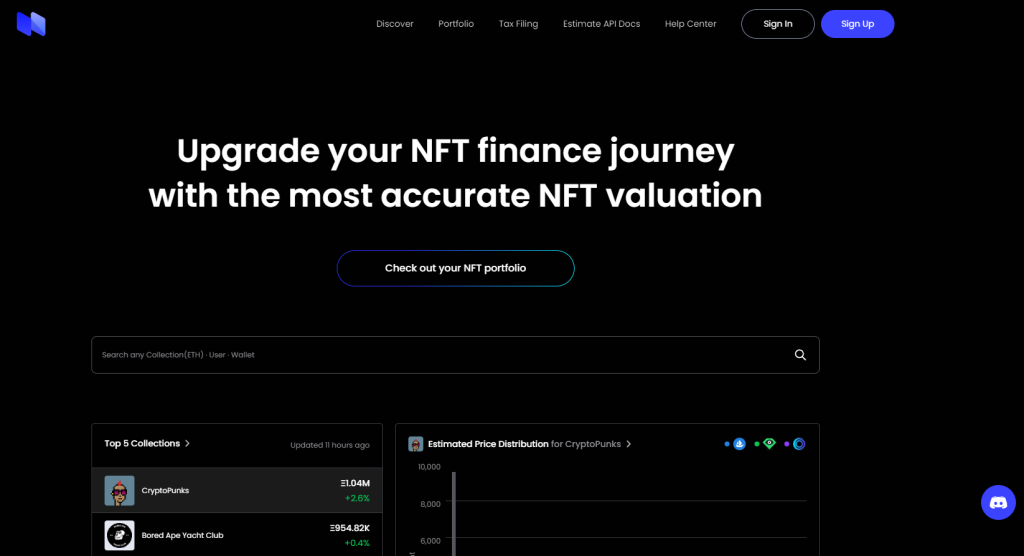 With a vital instrument like NTFBank, you can obtain quick insights into investments, which could be a big hit with those investing in NFTs. This is a great portfolio management tool for those looking to manage NFT ownership and offers many useful features such as speed, simplicity, signals, and NTF portfolio tracking and analytics. Among some of the unique features of this NFT, app are speed (it is much faster than others) and a simple user interface.
HowRare.is
---
Best Solana NFT Rarity Checker – HowRare.is – one of the best tools used to check the rarity of all the NFT coins created on Solana Blockchain. This tool provides detailed information about each token, including the floor price, total supply, current market cap, the number of transactions, etc. Users can use this tool to check the rareness of all the NFT assets based on their attributes like rarity rank, rarity score, etc.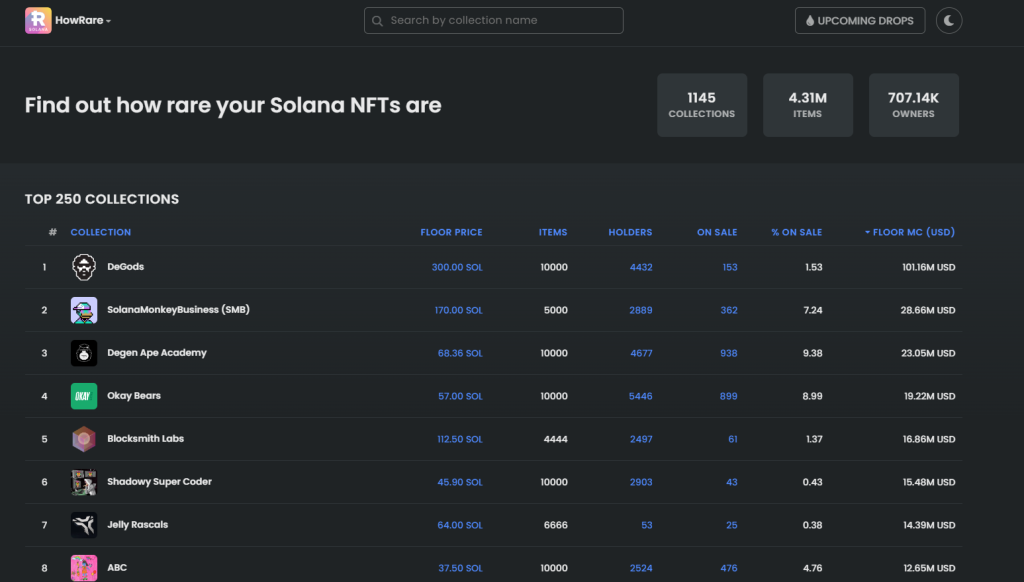 When you open up this tool, it displays all the data related to the selected asset. You can view the following details:
Number of transactions
Total Supply
Current Market Cap
Floor Price
Rarity Rank
---
MomentRanks
The main reason NFT investors love MomentRanks is its extremely slick interface. It's easy to use, intuitive, and offers various features. But there are some red flags about the quality of the data. For example, although the data isn't necessarily incorrect, it's not vetted and is almost instantly available no matter the source it came from. Moreover, MomentRanks doesn't seem to adhere to the same standards as other sites.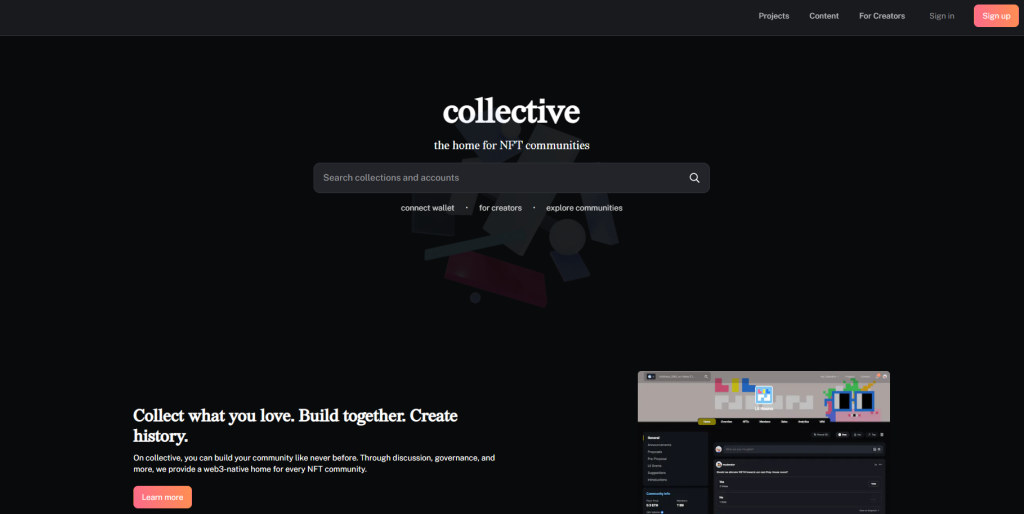 Moreover, MomentRanks uses its own rarity score that's slightly different from the market norm. In fact, the rarity score is based solely on the number of tokens sold rather than the total supply. As a result, the rarest token actually has the highest price.
NFTSniff
---
NFTSniff calls itself the "rare NFT sniffer." Similar to other NFT rarity tools like Rarity.tools or HowRare.is, you can use NFTSniff to see how rare a specific NFT is. Unlike those tools, however, NFTSniff displays the current mint status of each NFT.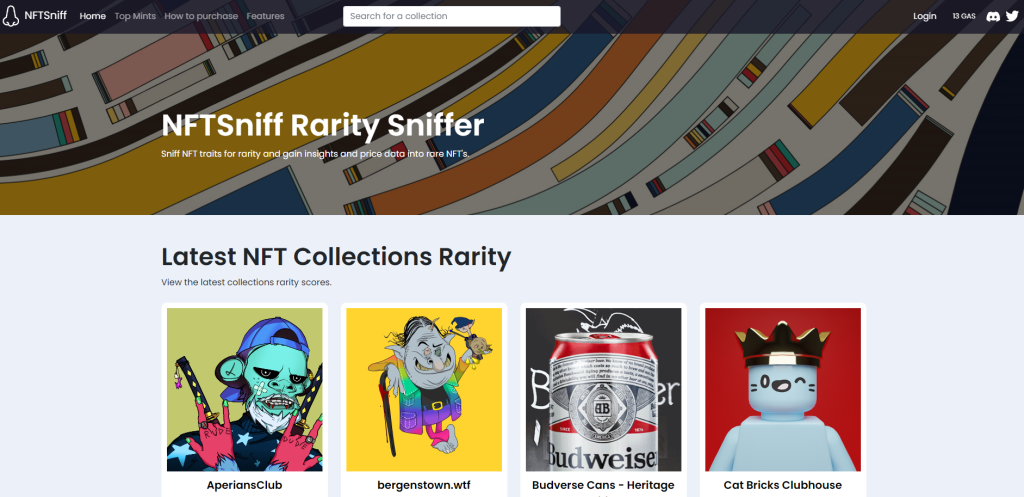 You can also join its Discord channel to receive notifications about projects that reveal high mints. Currently, the platform supports over 300 different collectible assets. However, it lacks some of the functionality offered by other similar platforms.
For example, there isn't a way to sort by price or date. Also, while the site does offer a feature where you can enter the URL of a specific asset, the platform doesn't provide a way to compare the rarity of multiple collectibles at once.
Read also:
How to Calculate an NFTs Rarity?
---
The rarity of a collectible asset is determined by several factors, including how many copies exist, what percentage of those are unique, and whether it's a physical item or digital. In some cases, rarity values are calculated based on a specific set of criteria, such as the number of cards in Magic: The Gathering sets or the number of coins minted during World War II.
However, there are also formulas that calculate rarity based on broader metrics. For example, a card in a Magic: The Gathering booster pack might have a rarity of 3/1, while another card in the same booster pack could have a rarity of 2/1. To determine the rarity of both cards, we'd simply multiply the rarity of each card by the total number of cards in the booster pack.
This method works because most packs contain 40 cards. Assuming that every card's rarity is equal (3/40), then the rarity of the second card would be 0.75.
In addition to calculating rarity, these formulas can also tell us about the relative rarity of different types of collectibles. For instance, a rarer NFT might be less likely to sell for $100,000, whereas a less rare NFT might be more likely to sell for $10,000. There are even formulas that let collectors know how much money they stand to make depending on the rarity of their NFTs, which is useful information when deciding where to spend their hard-earned cash.
What Makes an NFT Rare?
---
Rarity is defined as "the degree to which something is unusual."
Rare items tend to be highly desirable because they are hard to find. They're often expensive too because people want to keep them as souvenirs. And since there aren't many around, they command high prices. In fact, some experts say that rarity is one of the most important factors in determining price.
What is an NFT Rarity Score?
---
Rarity.tools just launched a feature where you can see how rare each item in your collection is. This tool is built upon the same algorithm used by CryptoKitties, the most popular blockchain game ever. In fact, it uses the same formula we use to rank items based on their rarity. So what does this mean? Well, it means that the more unique an item is, the higher its rarity score. If there are multiple copies of an item, the lower its score.
👉 Here's how it works: Let's say I've got 10 different versions of a specific card in my collection. Each one has a different name, artwork, and even price tag. Now let's say I'm trying to figure out the rarity of those cards. How do I find out how rare each version is? Simple – I take the number of cards that have that particular name, artwork, and price tag, divide it by the total number of cards in my collection, and multiply that ratio by 1.0. Then, add all of those ratios together to get a final rarity score for that card.
This process works because each card in your collection is unique, and so is every copy of it. And since there are no duplicates, the rarity score represents the probability that someone else owns the exact same card as you.
FAQs
---
Do rarity tools have all NFTs❓
No, rarity tools do not have all NFTs.
How do I find the best NFTs value❓
Here is a step-to-step guide on how to find the best NFTs to invest in:
1. NFT properties to comprehend rarity and generation process.
2. Determine whether the NFT developer has a community.
3. Research the NFT's current price.
4. Discover how many units of that NFT are available overall on the market.
5. Perform analysis to identify whether systems are compatible with that NFT.
How do I find trending NFT projects❓
OpenSea is the greatest site to purchase trending NFT projects. The largest selection of non-fungible tokens are offered for sale on this NFT marketplace, and you can purchase any of the most popular NFTs currently on the market. (Aside from CryptoPunks)
How do I use rarity tools on OpenSea❓
OpenSea is one of the best places to buy and sell collectibles like NFTs. This marketplace allows anyone to list their items for sale, and people can bid on them. There are many different types of NFTs listed on OpenSea, including game assets, digital art, physical goods, and even cryptocurrency.
Besides facilitating NFT sales and showing some NFT rarity stats, OpenSea also shows some NFT rarity info. You can see the traits and how rare they are for each item, but you cannot see its overall rarity rank.
However, using OpenSea ranking data alongside any of the aforementioned NTFR tools can be helpful. For example, you can look up the average number of daily bids, total amount sold, highest selling price, etc. NFT marketplace OpenSea also lists NFT rankings based on volumes, floor prices, and more. These statistics can help you understand what types of NFTs are trending well and which aren't doing well.
How does rarity sniper calculate❓
According to Rarity.tools, the combined rarity score of all trait values in a certain NFT is equal to the rarity score of that NFT as a whole. In other words, the higher the rarity score, the rarer the NFT is in this model.
What kind of NFTs sell best❓
There are many kinds of NFTs that sell the best. While some artists first create their actual works of art digitally, others sell NFTs of them in the form of paintings, sketches, and pictures.

CaptainAltcoin's writers and guest post authors may or may not have a vested interest in any of the mentioned projects and businesses. None of the content on CaptainAltcoin is investment advice nor is it a replacement for advice from a certified financial planner. The views expressed in this article are those of the author and do not necessarily reflect the official policy or position of CaptainAltcoin.com
Source link