The trading volume of Ontology (ONT) crypto rose 19.71% to US$23.83 million on Wednesday morning ahead of its scheduled telegram discussion. 
Under its Loyal Member program, the platform gives away NFTs, ONG and ONT tokens as rewards to those who participate in Ontology events and contribute to the weekly discussions.
Ontology claims that its program aims to improve the community's knowledge about blockchain, Web3, and decentralized identity solutions. 
While the ONT token surged 2.11% to US$0.2972 at 5:04 am ET on Wednesday, the broader crypto market fell 0.74% to US$1.30 trillion. Bitcoin (BTC) was down 0.07% to US$31,601.47 and Ethereum (ETH) declined 1.85% to US$1,935.15.
What Is Ontology (ONT)?
Ontology aims to build an infrastructure to provide users secure access to Web3, in line with the regulatory privacy policy. Li Jun, who has over 17 years of experience in the IT and fintech sectors, founded the project in November 2017. 
Also Read: Did Legend X hackathon trigger Aelf (ELF) crypto rally on Friday?
The platform seeks to protect users' identities and data through encryption. It assures users guaranteed on-chain and off-chain data security. Ontology aims to build a platform where one will have complete control over who can access, see, and use their online data and identity.
The Ontology blockchain is a high-speed, low-cost public chain designed to launch data and decentralized identity solutions on Web3 while ensuring trust, transparency, and privacy. 
. 
Also Read: Why XCAD Network (XCAD) token's trading volume surged over 100%?
According to the company, building a proper infrastructure is one of the initial steps toward addressing Web3 challenges. To improve users' experience, the blockchain offers products like ONT ID, ONTO Wallet, Wing Finance, and SAGA.
For instance, the cross-chain ONT Wallet manages digital identity, data, and assets all in one place. The ONT ID gives users complete control over their ID and data. 
Wing Finance, a cross-chain DeFi lending protocol, is integrated with a "reputation score".
Lastly, SAGA, a decentralized data protocol, allows users to monetize data securely while ensuring regulatory compliance.
Also Read: Why is Everdome (DOME) crypto gaining attention?
The project allows enterprises to build their customized blockchains on the Ontology platform, which supports Ontology EVM, NeoVM, and WasmVM to ensure interoperability.
Also Read: Is Cardano (ADA) crypto rising on Iagon's Ethereum-Cardano bridge news?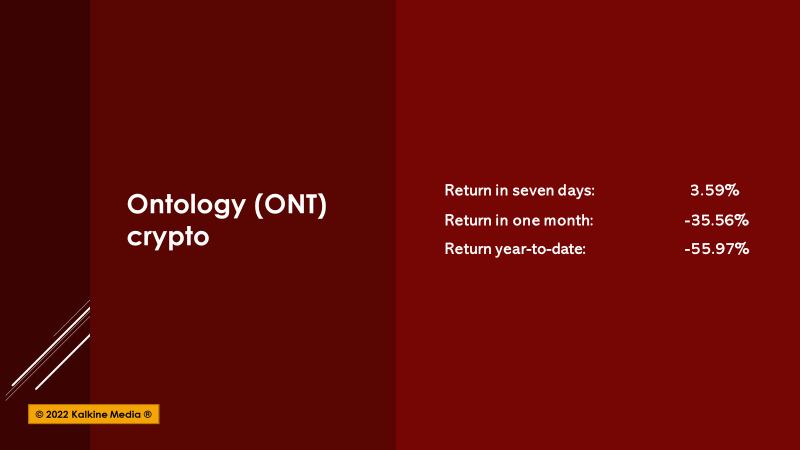 Data Source: coinmarketcap.com
Also Read: What is Synthetix (SNX) crypto? Will it continue rising?
ONT token:
The project has two tokens to power & secure its network: ONT and ONG.
ONT is the primary token for governance, staking, and verifying transactions, while ONG is used for performing operations on the Ontology blockchain, for example, executing smart contracts.
The ONT token has a current market capitalization of US$260.08 million. Its circulating supply is 875.25 million, and the total supply is one billion.
Also Read: Why Celsius (CEL) crypto plunged to its lowest level since Sep 2020?
Bottom line:
ONT can be traded on Binance, KuCoin, OKX, MEXC, BingX, etc. The token reached its all-time low of US$0.198733 on May 12, 2022, as per CoinGecko. It has recovered around 49% since. The Crypto market is volatile; hence, investors should carefully evaluate digital assets before investing in them.
Risk Disclosure: Trading in cryptocurrencies involves high risks including the risk of losing some, or all, of your investment amount, and may not be suitable for all investors. Prices of cryptocurrencies are extremely volatile and may be affected by external factors such as financial, regulatory, or political events. The laws that apply to crypto products (and how a particular crypto product is regulated) may change. Before deciding to trade in financial instruments or cryptocurrencies you should be fully informed of the risks and costs associated with trading in the financial markets, carefully consider your investment objectives, level of experience, and risk appetite, and seek professional advice where needed. Kalkine Media cannot and does not represent or guarantee that any of the information/data available here is accurate, reliable, current, complete or appropriate for your needs. Kalkine Media will not accept liability for any loss or damage as a result of your trading or your reliance on the information shared on this website.