Polkadot price slumped in 2022 as concerns about its ecosystem remained. DOT slumped to a low of $4.37, which was substantially lower than its all-time high of $56. Its market cap crashed to $5.7 billion, which was much lower than its all-time high of over $30 billion.
Parachain concerns remain
Polkadot is a leading blockchain that is relatively different from other networks like Tron and Ethereum. It makes it possible for developers to create parachains, which are heterogeneous chains. These chains are interconnected with each other through the relay chain.
A parachain is an independent chain that can do multiple things. For example, a platform like Efinity deals with non-fungible tokens while Phala Network is a decentralized cloud computing network. Other popular parachains are Litentry, Moonbeam, Acala, and Clover Finance among others.
Polkadot price reacted to the relatively underperformance of these networks. For example, smart contract parachains like Moonbeam and Moonriver have $101 million and $51 million in total value locked (TVL), respectively.
Read more about how to invest in Polkadot.
Perhaps, the biggest disappointment in Polkadot parachains was Acala Network, which is a liquidity provide on Polkadot. Acala is best known for its Acala Dollar, which is a decentralized stablecoin. Like Terra USD, the stablecoin lost its peg in 2023 and has never regained it. It lost its peg as its multi-collateralized assets like DOT, KSM, ACA, and BTC plunged.
Other Polkadot parachains had little activity as well. For example, Enjin's Efinity had little market activity in 2022 as non-fungible tokens (NFTs) plunged. Other parachains that lagged in terms of activity were Litentry, Darwinia, Frequency, and HydraDX among others.
Like other cryptocurrencies, DOT price also plunged because of the soaring interest rates, falling fear and greed index, and the collapse of FTX and other exchanges like Binance and Voyager Digital.
Polkadot price prediction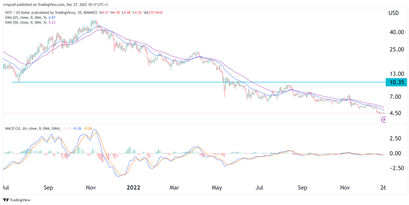 The daily chart shows that the DOT crypto price has been in a strong sell-off in the past few months. This drop culminated with the coin's drop below $10.35, which was the lowest level on July 11. It also plunged below the 25-day and 50-day moving averages, which is a bearish sign. The MACD has moved below the neutral point while the Average True Range (ATR) has retreated.
Therefore, Polkadot price will likely continue falling as sellers target the next key support level at $3.50. A move above the resistance point at $10.3 will invalidate the bearish view.