Solana price has staged a strong recovery in 2023 as investors buy the coin's dip. The SOL crypto price surged to a high of $24.92, which was the highest point since November 9. It has surged by more than 196% from the lowest point in 2023, making it one of the top performing cryptocurrencies in the market.
Solana ecosystem rebound
Solana price has been in a strong rebound in the past few weeks as the market buy the coin's dip. As I wrote here, the coin crashed hard in November because of its significant exposure to FTX and Alameda Research. The coin had significant exposure to the two companies that were started by Sam Bankman-Fried.
Solana also crashed as key parts of its ecosystem crumbled. A good example of this was Serum, which was the biggest DeFi platform in its ecosystem with a total value locked (TVL) of more than $1.5 billion. Serum's ecosystem crumbled after it emerged that the private key was held by FTX.
SOL price has recovered modestly as investors buy the dip. This trend has been helped by the macro conditions in the United States, where inflation has dropped sharply in the past few weeks. Data published last month showed that the country's headline inflation dropped from 7.1% to 6.5% in December.
Meanwhile, Solana's DeFi ecosystem has made some improvements. For example, Marinade Finance has seen its TVL surge by more than 40% in the past 7 days. Similarly, Lido, Orca, Raydium, and Quarry have seen their TVL climb by over 42% in the same period. Orca has benefited from the popularity of Bonk, a Shiba Inu-themed token. The price of Orca token has soared by over 143% from its December lows.
Solana price has also soared as NFTs in its ecosystem have surged. Total sales in January has soared to over $87 million, which is the highest level since September. And January is not yet over, meaning that it could soar past September's $141 million.
Solana price prediction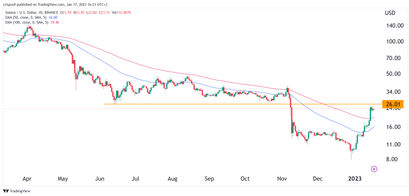 The daily chart shows that SOL has been in a strong bullish trend in the past few days. Along the way, it has managed to move above the 50-day and 100-day moving averages. It is also approaching the important resistance level at $26, the lowest point since June last year.
Oscillators like the Relative Strength Index (RSI) and the Stochastic Oscillator (SO) have continued rising. Therefore, I suspect that Solana will continue rising as buyers target the key resistance point at $35, which is about 50% above the current level.