The metaverse is creating new economic opportunities for digital natives at an accelerated pace; people playing computer games for a living is now a fact and not fantasy.
Play-to-earn guilds aim to involve and enable individuals and communities to participate in such games without upfront capital.
These guilds have formalized the method of lending in-game assets in the form of NFTs. These communities pair people who want to make money playing games with the NFTs (characters or assets) they need to start the game.
The guild will receive a percentage of the player's earnings, while the player gets what they need to join the game.
Let's focus on the top Metaverse gaming guild listed below.
1. ASTRA GUILD
Astra Guild Ventures is a Decentralized Autonomous Organization (DAO) that invests in Non-Fungible Tokens (NFTs), Play-to-Earn( P2E) games, and other blockchain technologies.
Astra Guild connects investors who don't have the time to play these P2E games and players who don't have the funds to invest in these NFT assets, maximizing the potential of both sides.
By 2022, the DAO aims to be one of the most valued organizations of its kind. With the DAO positioned at the forefront of NFT gaming and the fast adoption rate of this new sector of the Metaverse, AGV is set at the right pace of achieving this goal.
The DAO currently has 2,036 Axie Infinity scholars and counting, with assets amounting to over $2.4 million as of today.
Community
The AGV community comprises aspiring scholars, trained managers, and gamers worldwide in one melting pot community.
With more than 2,000+ scholars and 46,000 Discord Community members, Astra Guild Ventures has secured a spot as one of the fastest-growing NFT gaming guilds in the industry.
One of the notable activities of Astra Guild Ventures is the AGV Day, where the guild organized learning and entertaining activities on topics like gaming strategy and trading for free
AGV Token
The guild has its governance token called the AGV. There are 2,000,000,000 AGVs to be distributed among investors, founders, advisors, and community members.
The public sale will follow on December 17, 2021.
2. META GAMING GUILD (MGG)
Meta Gaming Guild is a community governed organization that makes GameFi easy for the population. MGG offers the first Decentralized Finance (DeFi) protocol to lend game items to scholars; the first form of automated NFT yield
Grounded by Success
MetaGaming Guild is founded by Andy Agnas, the CEO and Founder of SparkPoint Technologies Inc. The project's lead advisor is Hatu from DAO Maker, the global leader in crypto launchpads.
The primary market of MGG for play-to-earn gaming is the Philippines but MGG is also very proactive in on-boarding other gamers from other partners of the world including Asia, Africa, Europe, and America.
Its Unique Features
Scholarship program:

It rents out MGG-owned NFT assets to players worldwide to generate revenues. With this, gamers can access NFT games without upfront costs, access early-stage game tokens like VCs, and deploy their NFTs to automated yield.

Game Yield Farming:

offering the first DeFi protocol to lend NFT game items to its scholars.

Community DAO:

fostering a decentralized autonomous organization (DAO) where members get to vote on the direction of the MGG network.

GameFi Vaults:

It acquires virtual assets issued by start-up NFT gaming projects in VC funding and puts them into gamers vaults where MGG holders can earn through staking.
3. BLOCKCHAIN SPACE
BlockchainSpace is a guild hub for play-to-earn communities. It builds tools to empower play-to-earn communities, and also runs its own guilds to identify economic opportunities in play-to-earn games.
If you've ever been part of a Massively Multiplayer Online Role-Playing Game (MMORPG), then you already know it means your clan community might start out as a group of friends who go on adventures and explore new worlds together.
Features
With BlockchainSpace's range of unique tools and features guild operators can;
Saves time

Generate insights from valuable data and metrics

Gain access to capital. This gives gamers the opportunity to focus on scaling and improving performance.
$GUILD is BlockchainSpace's native platform token that will be used for community governance as well as a utility token used for inter-guild transactions and esports league tournaments.
4. YIELD GUILD
Yield Guild Games (YGG) aims to help the rest of the world get started with playing games and earning money for their contributions to building the new Metaverse economy.
Yield Guild is an open, permissionless community that is organized around different activities in the Metaverse play-to-earn economy.
How To Get Involved?
Join the Axie Infinity "scholarship program" and receive an Axie account with 3 Axies to start farming Small Love Potions ($SLP).

Join the YGG Esports team and train with other players to compete in Axie Infinity leaderboard challenges and tournaments.

Join the League of Kingdoms alliance and start plotting world domination while earning passive DAI rewards from land ownership.

Co-invest in upcoming NFT pre-sales with the guild.
5
.
GUILDFI
GuildFi is the interconnected Web3 ecosystem of games, NFTs, and communities, with an aim to maximize players' benefits and enable interoperability across the metaverse.
GuildFi was created by a team of experienced gamers and community builders, to elevate the experience of every player by creating a Web3 infrastructure to connect games, NFTs, and communities.
Features
Game Discovery:

GuildFi helps players discover curated games and game creators discover the right player base for their game launch.

GuildFi ID:

GuildFi ID is your Metaverse ID that is embedded with a leveling system that tracks players' achievement and footprint across the metaverse.

Proof-of-Play Rewards:

GuildFi enables play-to-earn on any games by analyzing your lifetime activities and giving out the right benefits to you whether it's an allocation to NFT campaign or a bonus yield from our tokens.

Scholarship Portal:

GuildFi platform offers a built-in scholarship program that is aggregated from our treasury, partners' guilds, and connected NFT funds.
GF Token
The GuildFi Token ($GF) powers its ecosystem while capturing value in the infinitely expanding metaverse. The token value will grow in direct proportion to:
Revenue generated from up-and-coming P2E games.

NFT sales & IGOs (Initial Game Offerings)

NFT usage transaction volume.

Metaverse related project token value.

NFT asset lending across the ecosystem and many more.
Read Also:
GameFi: Top Guild Gaming Platforms

What is Decentral Games and How to Play & Earn

PEGAXY; The Top Polygon based Player Versus Player Horse Racing Game
6. GOOD GAMES GUILD(GGG)
Good Games Guild (GGG), is a product that is created to maximize the function of Metaverse in human social life. According to GGG, this foreign world called Metaverse will turn into a new world for all of us.
Most interestingly, this new world will not only offer a new experience, but also a new opportunity for everyone.
GGG aims to convert the asset ownership in Metaverse to be a productive asset by utilizing the role and function of each guild member.
These members will be the generators that will take the conversion of asset ownership owned by GGG from regular assets to be the more productive ones.
Token
GGG will issue Utility Token namely Good Games Token emblazoned with $GGG sticker.
Players are to use $GGG as a native currency in GGG Ecosystem on top of that it's also tradable and has a burnt feature. $GGG also has some other functions such as:
Activities reward

Payment on the Platform

Governance (Voting Right & Proposal)
Good Games holders are able to claim rewards that have been distributed by GGG by staking GGG tokens in the provided vaults.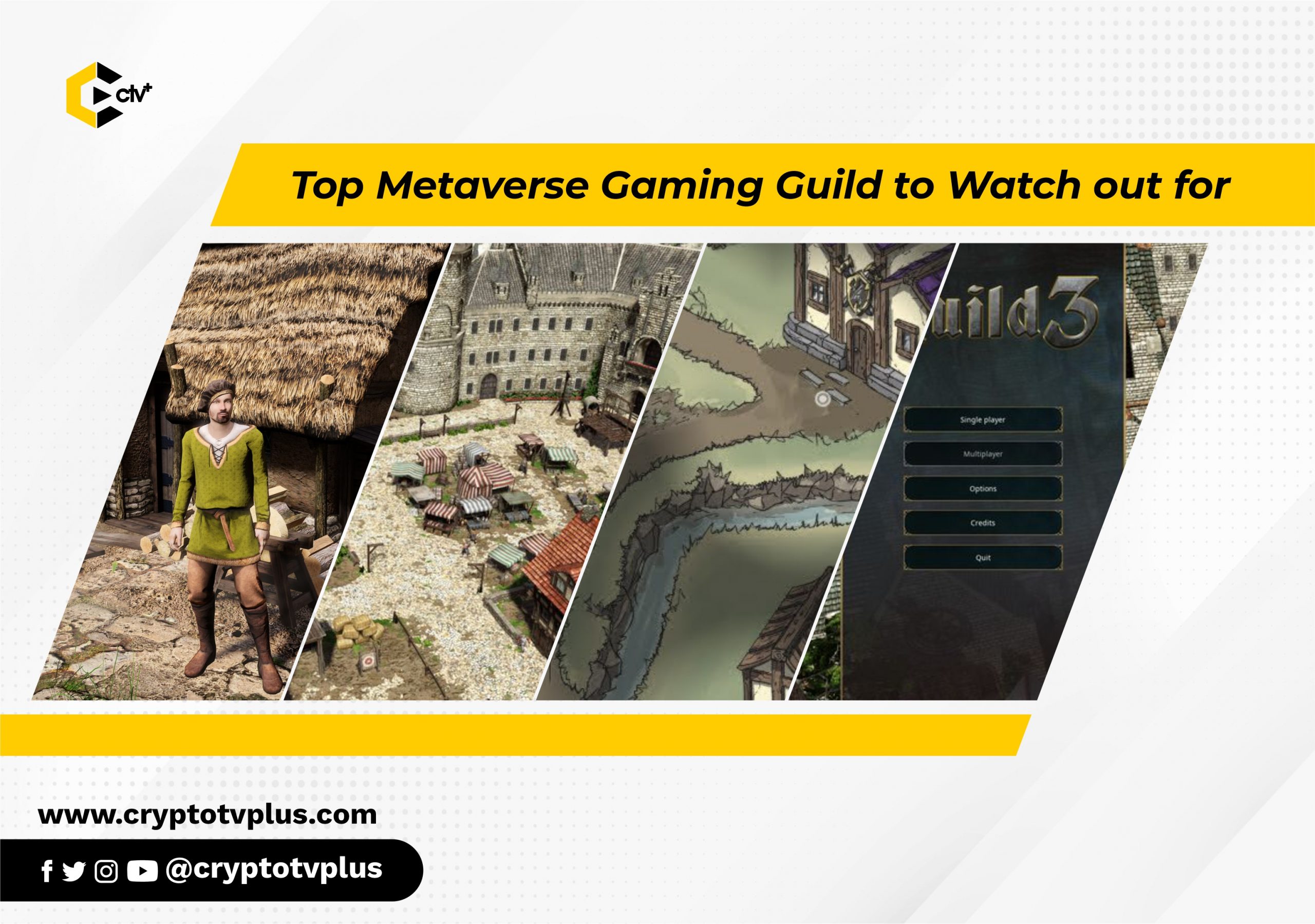 7. BLOCKCHAIN ADVENTURERS GUILD (BAG)
The Blockchain Adventurers Guild (BAG) is a decentralized organization dedicated to the research, deployment, and use of blockchain technology in the pursuit of a higher good.
Marketplace
The Guild marketplace is where members can buy and sell items to each other. It is also a place in the Guild Treasury.
Adventurers should join the guild to learn about blockchain, earn financial rewards, meet new
friends, and up upgrade their online identities. BAG will have an organically crowdsourced experience that can be enjoyed during one's free time or as a full time profession.
See also;
UniX's mission is to be the first digital nation with the biggest virtual economy utilizing our community assets and DAO tokens the metaverse.
UniX Gaming brings together the fun of gaming and helping people in developing countries by using the emerging play-to-earn model.
It has 1.6 million followers across all of UniX's streamers.
It has created Impressive Communities of over 191,000 ; 1,200+scholars under management, 24/7 play-to-earn streams on Facebook and twitch. It also has 1.6millon followers across all of UniX's streamers.
Token Name: UNIX Token
Ticker: $UNIX
Total Supply: 1,000,000,000(1billion)
Chain: Ethereum
Standard: ERC-20
Its current price on Uniswap is $0.6 per UniX.
Crypto Gaming United is a platform that brings people from developing countries together to build a new virtual economy and earn a sustainable income while learning new digital skills and engaging with the global blockchain gaming community. CGU has experienced strong growth since its launch in September 2021.
Their players live all over the world, with large communities in the Philippines, Russia, Poland, Lebanon, Africa, Bangladesh, Sri Lanka, PNG, and Indonesia.
Its mission is to create a global community of play to earn enthusiasts that are able to learn new skills, mentor others and take control of their financial future.
The central for Axie Infinity Esports competitions & rankings. The first competition is already in progress. At AxieBCH League, you can follow matches and watch the leaderboard here.
It currently has 85 players united in 9 brigades. The Guild owns 265 Axies as of December 9, 2021. $AXIEBCH token has total liquidity worth $81,839 and has 5 yielding farms on 4 DEXes.
Axie Infinity Esports is a huge opportunity for early project developers and we are already here to build. You can get further information at AXIEBCH gaming guild.
What do you think of this article? Share your comments below.