The amount of cryptocurrency projects being introduced within several sectors has been increasing, despite the ongoing crypto winter. While there are hundreds of projects that are being launched regularly across the globe, only a few of them seem to have the utility, engagement or community to see to it that the said initiative actually succeeds. Meta Masters Guild is one such project, featuring a cryptocurrency that seems to be in high demand too. 
The success of a crypto project essentially is judged by the wider community in terms of its native token's potential for growth. This makes sense when the token in question is the primary source of exchange within the project's ecosystem.
Meta Masters Guild's native token is MEMAG, which is the sole token within the entirety of the ecosystem. In this article, we will look at the price prediction for MEMAG, by analysing its benefits and features and comparing it to some of its competition.
Read on till the end to get an idea of how MEMAG may potentially perform over the years and respond to multiple catalysts that could potentially even disrupt the course of its growth. Let us start by taking a look at its price prediction for the upcoming years first. 
Meta Masters Guild Price Prediction – An overview
The price prediction for any asset is purely speculative and is usually predicted based on historical movements, the concept of the project, market trends and user interest. While the project hasn't matured enough yet to give ample data as to how its price may move on a technical level, the concept and potential interest can give us an idea of how it may fare in the upcoming years. This is a breakdown of its likely price movements over the next couple of years. 
Q1-Q2 of 2023
This will act as a very crucial period of time for the project. Meta Masters Guild is currently in its presale phase, which means that it is in the process of gaining popularity and establishing itself as a trusted entity. At the time of writing, MEMAG is still in the first phase of the presale, which means that it is priced at $0.007 per token.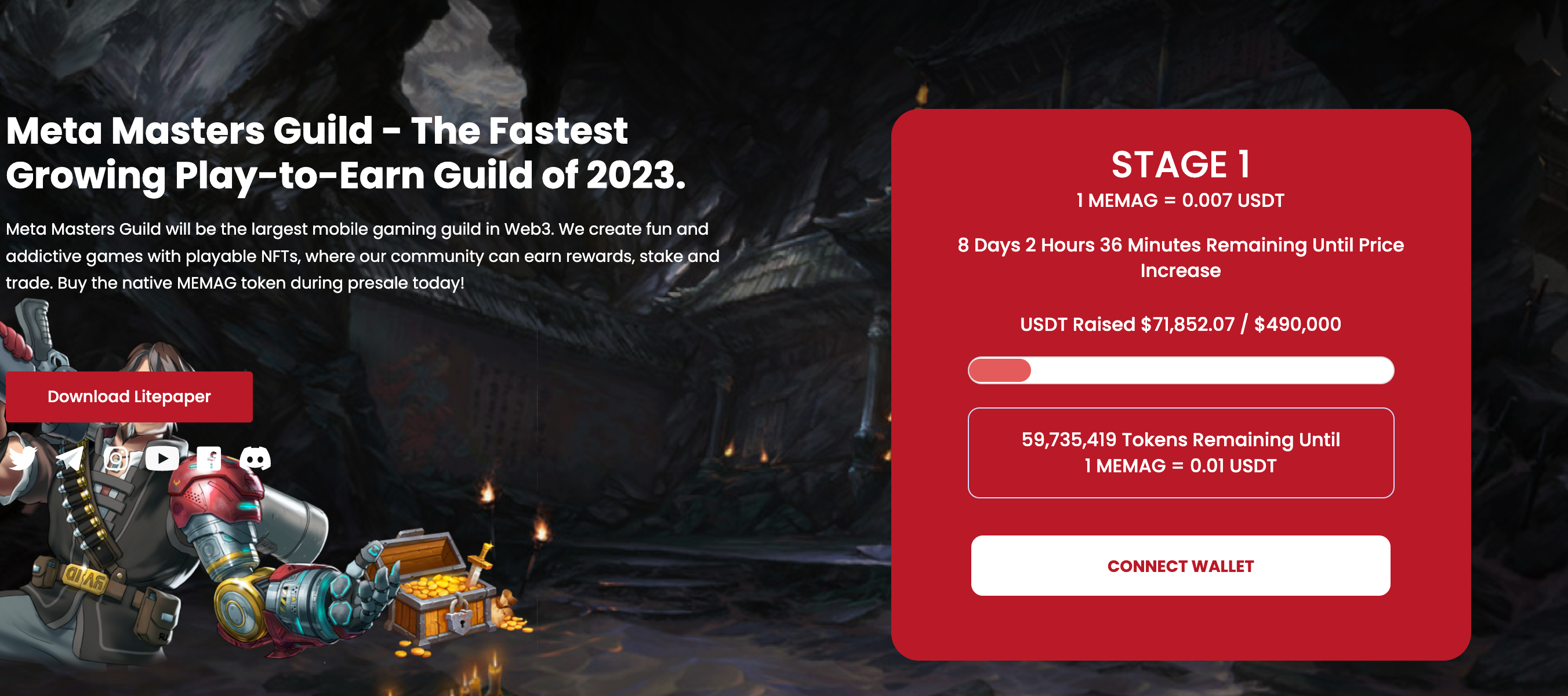 The MEMAG price will increase in increments up to $0.023 as each phase of the presale gets complete. This is likely to be ahead of schedule since the surging demand is already evident. 
Q3-Q4 of 2023
The presale for Meta Masters may have ended during this period, and it would be possible for investors to see several DEX and CEX listings right after the end of Q2, as per the roadmap available on the website. The team has already mentioned that they will be looking for several other expansion and partnership opportunities, which could potentially help the token see a considerable rise in terms of value. 
Since MEMAG will still be a small market cap crypto, it wouldn't be surprising to see a major spike in prices, as even smaller amounts of investments potentially increase the value of the token on a huge scale. By the end of 2023, we expect MEMAG to perform well, with the price being in the $0.08 – $0.11 range. While similar tokens have performed well, this range would be a realistic target considering the current market conditions and the overall state of the global economy.
2024
By 2024, Meta Masters Guild should be set to expand and explore newer avenues. While the roadmap hasn't been set up yet. It is likely that the platform will be adding newer and better games to its roster, and would have positioned itself as a leader within the P2E domain. If the project does manage to achieve this and gains recognition within the entire space, then there is a good chance that MEMAG could become a top gainer. 
However, this depends on the condition of the market as well. Under bearish market conditions, the token may end up looming around the $0.13 range, while a bullish scenario could possibly take the token to the $0.23 – $0.29 levels. 
2025-2030
Since the project is community-driven, it is likely to sustain and thrive for a much longer time. With its high utility features and the continuously growing P2E sector being its point of focus, Meta Masters Guild can easily achieve major feats in terms of popularity, innovation and price from 2025 onward. 
Several projects like Axie Infinity, Decentraland etc are within the P2E genre and have experienced a bullish wave that increased their price by over 10X within just a couple of months. Under the right market conditions and engagement from the community paired with a strongly developed project, we expect MEMAG to potentially touch the $1.2 – $2 levels. 
The Meta Masters Guild Presale
The presale for Meta Masters Guild was recently deployed, which has been recording a decent surge in demand already. It is set to distribute over 35% or 350 million tokens during this period, which will help developers raise the required amount to boost their production process for the final product, which as they claim is already in the making. 
The entire process is set to be carried out in 7 stages, wherein the completion of each stage will see a price increase of $0.003. For instance, on the completion of the first presale stage, the price of MEMAG will increase from $0.007 to $0.001. This will continue for 7 rounds, post which the token will be ready for exchange listings. The listing price is currently set at $0.023. 
The breakup for token distribution for the presale is also made in a simplified manner. Essentially, 70 million tokens will be available for the first stage. The number of tokens available for buying will decrease by 7 million after the completion of each presale stage. This means that only 35 million tokens will be available for purchase during the last stage of the presale. 
There are no long vesting periods for acquiring presale MEMAG tokens. Investors will have their tokens credited to their wallets at the end of the presale directly. Post this, they will be able to trade their tokens to their liking on any market/exchange where the MEMAG token will eventually be listed. 
What is Meta Masters Guild?
The demand for a community with a focus on P2E games is now at an all-time high. Despite there being several projects with strong models and features, none seem to be able to truly capture a "Guild" concept as well as Meta Masters Guild. It is essentially a platform that is set to host a plethora of P2E games in the future, while also acting as an excellent place for users to socialize freely as a community.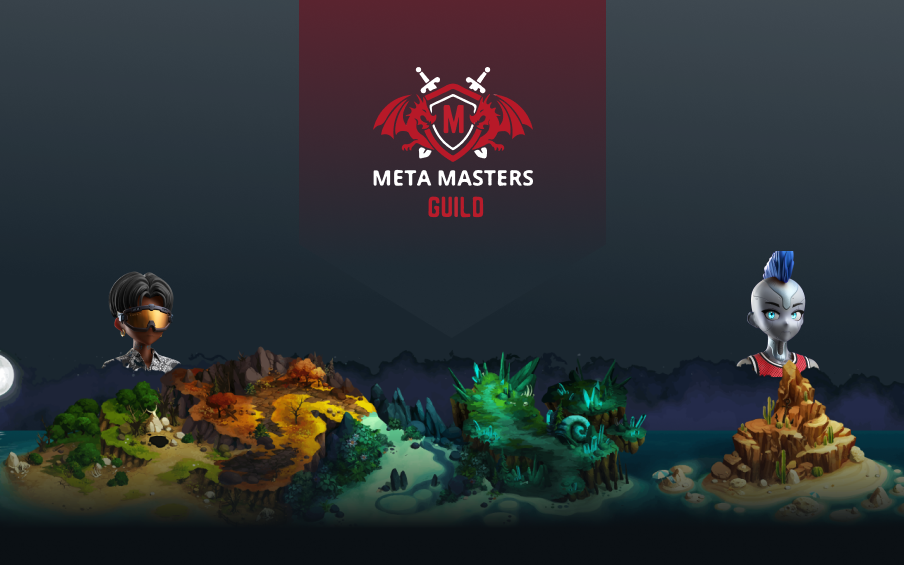 The project claims to potentially be the biggest mobile gaming guild within the Web3 space, and may indeed be successful at positioning itself as one. The idea is to be a one-stop destination from where players can surf and enjoy P2E games while also accessing playable NFTs from the same platform. Naturally, the team intends to make the experience worthwhile by adding several other exciting components like rewards, rankings, trading opportunities and staking. 
It is backed by some of the biggest names in the P2E space, which include the likes of RWaltz, GameAround, RuskinFelix and Push. All these organizations have extensive experience in the field of blockchain gaming and have previously worked with some of the most popular projects in the industry. There is a brief description of all the companies and an option to dive deeper into their details on the Meta Masters Guild Website itself. It is powered by AWS, Metamask, Ethereum and Trust Wallet, which are all trusted entities that almost every crypto enthusiast must have heard of at least once. 
The Meta Masters Guild developers have claimed that they do not wish to define the project as a Play-2-Earn initiative. Instead, they have been looking to focus more on the enjoyable gaming experience and give it a Play-&-Earn approach. This philosophy by the team itself was appreciated by a majority of blockchain and traditional gamers since several P2E projects have historically focused entirely on the Defi aspect and not on the creative factor of their games. 
"Meta Masters Guild" is a branding style of "Meta Masters Guild Ltd", a company in Marshall Islands with its office located in the Marshall Islands. More information on this can be found on the website or by inquiring on dedicated social media platforms. Despite being a new project, MEMAG's contract code has already been audited by SolidProof to ensure maximum security. The team has also been verified by the reputed entity Coinsniper.

All these aspects and qualities of Meta Masters Guild have caused the project to be featured on some of the most popular crypto websites as well such as StockApps, Trading Platform, Invest Rating, BuyShares, ActuFinance, Cryptonaute, Crypto news etc. 
Meta Masters Guild- Features 
The project's ecosystem consists of certain components, which have been smartly integrated for players to navigate the platform easily. As such, there are currently some limited actions that a player will be able to perform or access. Several other developments or upgrades may be introduced in the future, but the main activities that can be performed right now are: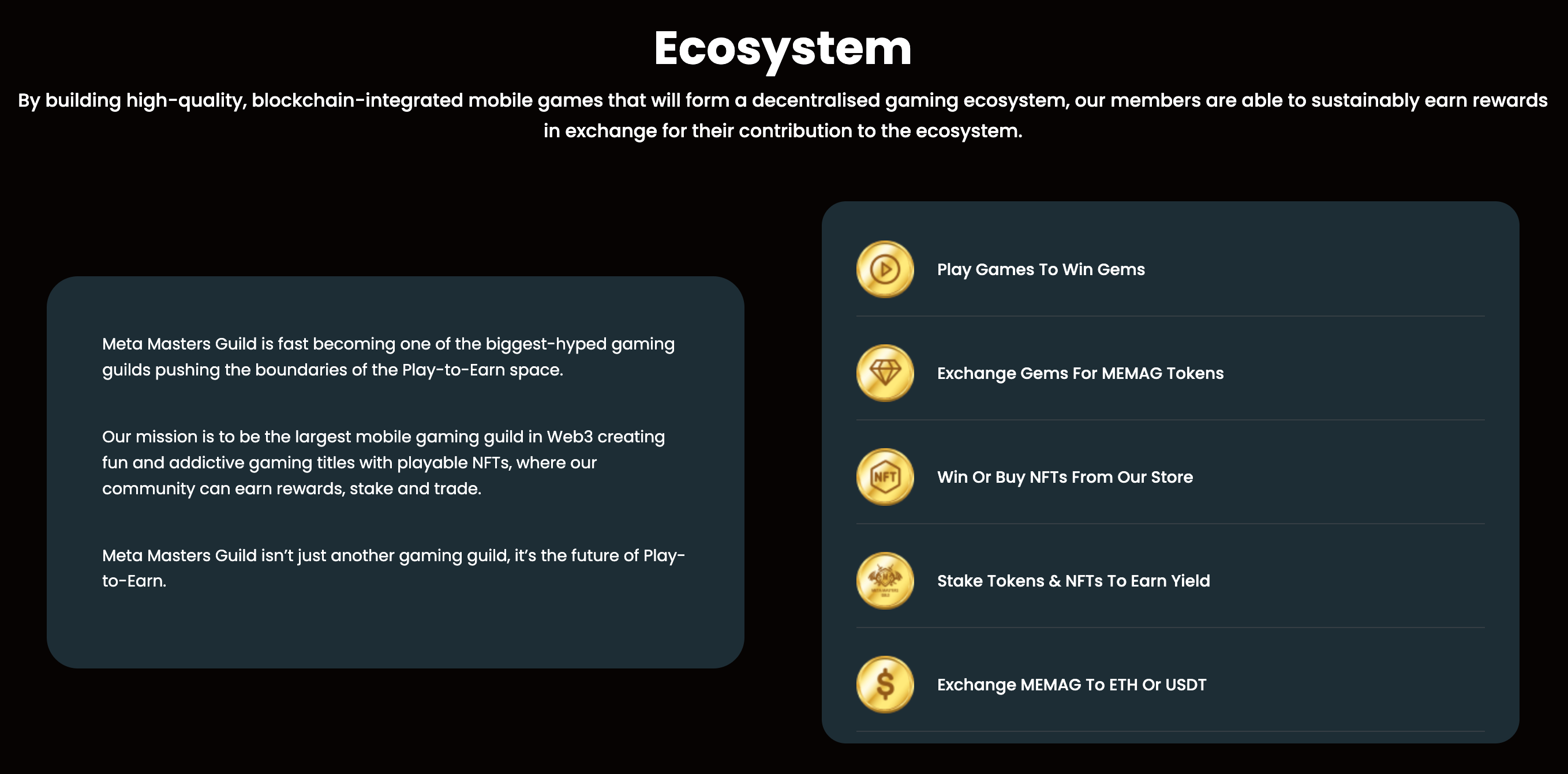 Play Games to Win Gems
The whole point of any P2E game is to enjoy the gaming experience while simultaneously earning income. Meta Masters Guild will be set to introduce a variety of games which can be enjoyed by players. However, the goal should be to win and advance in each title to win Gems. These Gems are of value and can be used throughout the platform. Each and every game on the Meta Masters Guild that you will come across will have Gems as their reward. The title of the game may change, but the rewards will ultimately be paid out initially in Gems only. 
Exchange Gems for MEMAG Tokens
Now that you have won a lot of Gems, what can you do with them? Surely, the P2E concept has to materialize somewhere. For this, you will have to convert your Gems to MEMAG tokens. The native token holds monetary value, and by exchanging Gems for MEMAG tokens, you will essentially be cashing out within the ecosystem. Do note that this concept may be changed or developed further in the upcoming months. However, as the project is still in its early phase, the aforementioned concept is how one will be able to monetize their gaming expertise. 
Win or Buy NFTs from the Meta Masters Guild Store
As mentioned above, the project boasts playable NFTs and other accessories that can be used within the actual games. A majority of these NFTs will have the capacity to influence your game since they enhance the character or main component within the game. Some items may fetch the character the ability to perform better or have a competitive edge over other players too.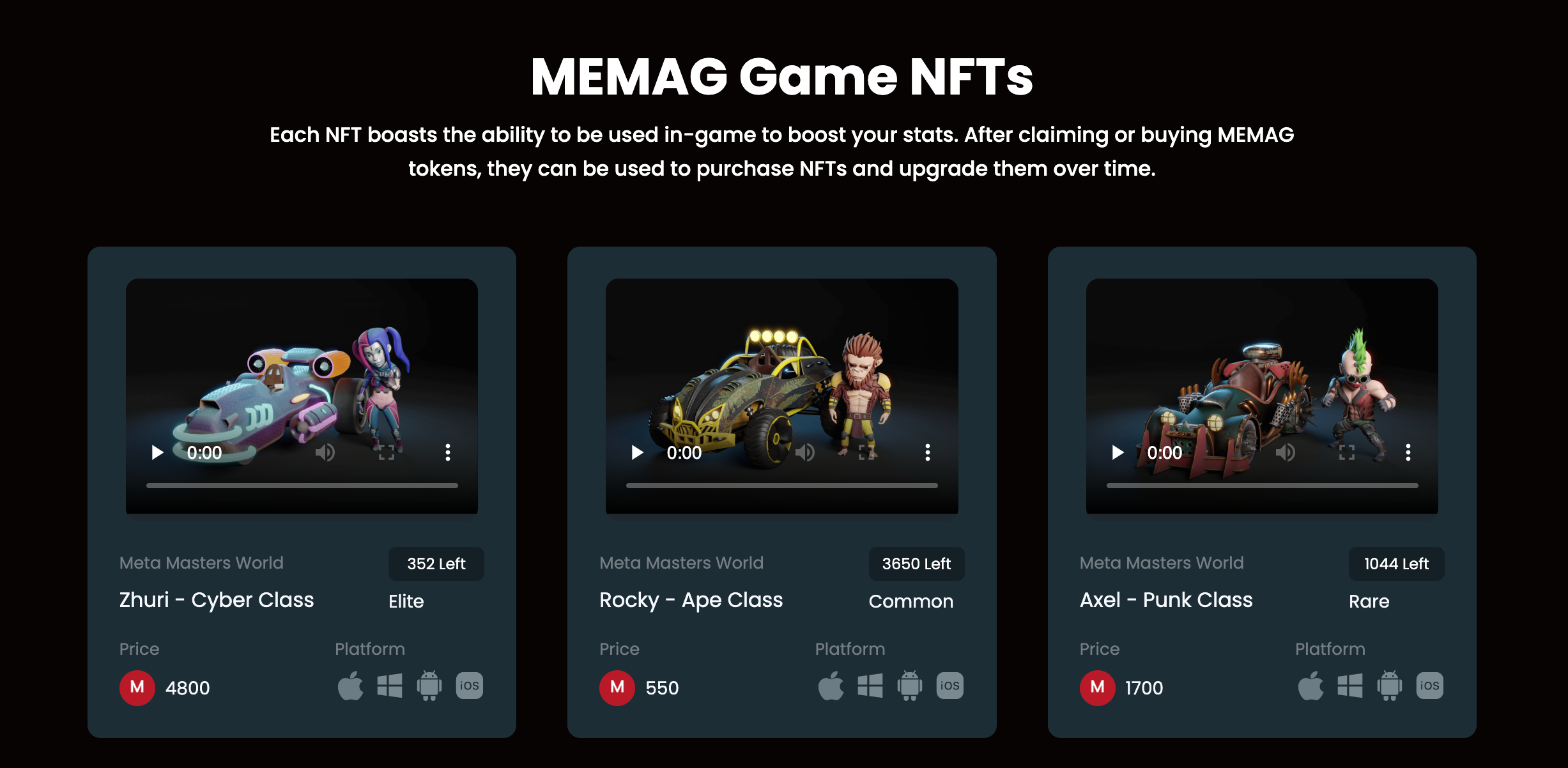 Surely, these NFTs can be helpful in winning games, but one should not overlook the fact that they will be collectables as well. This means that a player will be able to list their NFTs on the marketplace for money, and could earn profits from those too, as the platform grows in demand and the games attract more players. 
Stake Tokens or NFTs to Earn Yield
Earning income is a given when it comes to good P2E games. Winning would end up with the player getting rewarded, which they can then cash in later. But what about growing the winning passively? This is where staking takes centerstage. An important factor that any investor looks for in a project like Meta Masters Guild is the ability to earn income while being away or without having to play games as well. 
For this, the ecosystem will feature a staking platform as well, where players will be able to stake their MEMAG tokens and even their NFTs for good yields. 
Exchange MEMAG for ETH or USDT
If needed, one will be able to exchange the MEMAG tokens into ETH fiat like USDT. This can be done using the in-game market, or through decentralized exchanges where MEMAG will be available. Within a couple of weeks, the project may also be able to list its token on several centralized exchanges, which will simplify the exchange process even more. Players will be able to sell their tokens by simply sending them from their wallets to the potentially listed centralized exchanges. 
Profit Potential – With Respect to its Competition
As we saw at the start of the guide, the price of MEMAG is very likely to shoot up in the upcoming weeks. Let us look at a similar project and the time when it peaked to get an understanding of how Meta Masters Guild may perform coupon getting launched officially. 
Ultra is a popular project which has gained popularity as a strong project with high fundamentals, similar to Meta Masters Guild. It is also a P2E platform, which claims to bring games, digital assets, tournaments, and live streams to one place, all easily accessible through a single login. The price of MEMAG is currently around $0.007 and is expected to be launched after the presale at $0.023. However, Ultra's UOS token has been around for a while and experienced a euphoric uptrend during the bull market.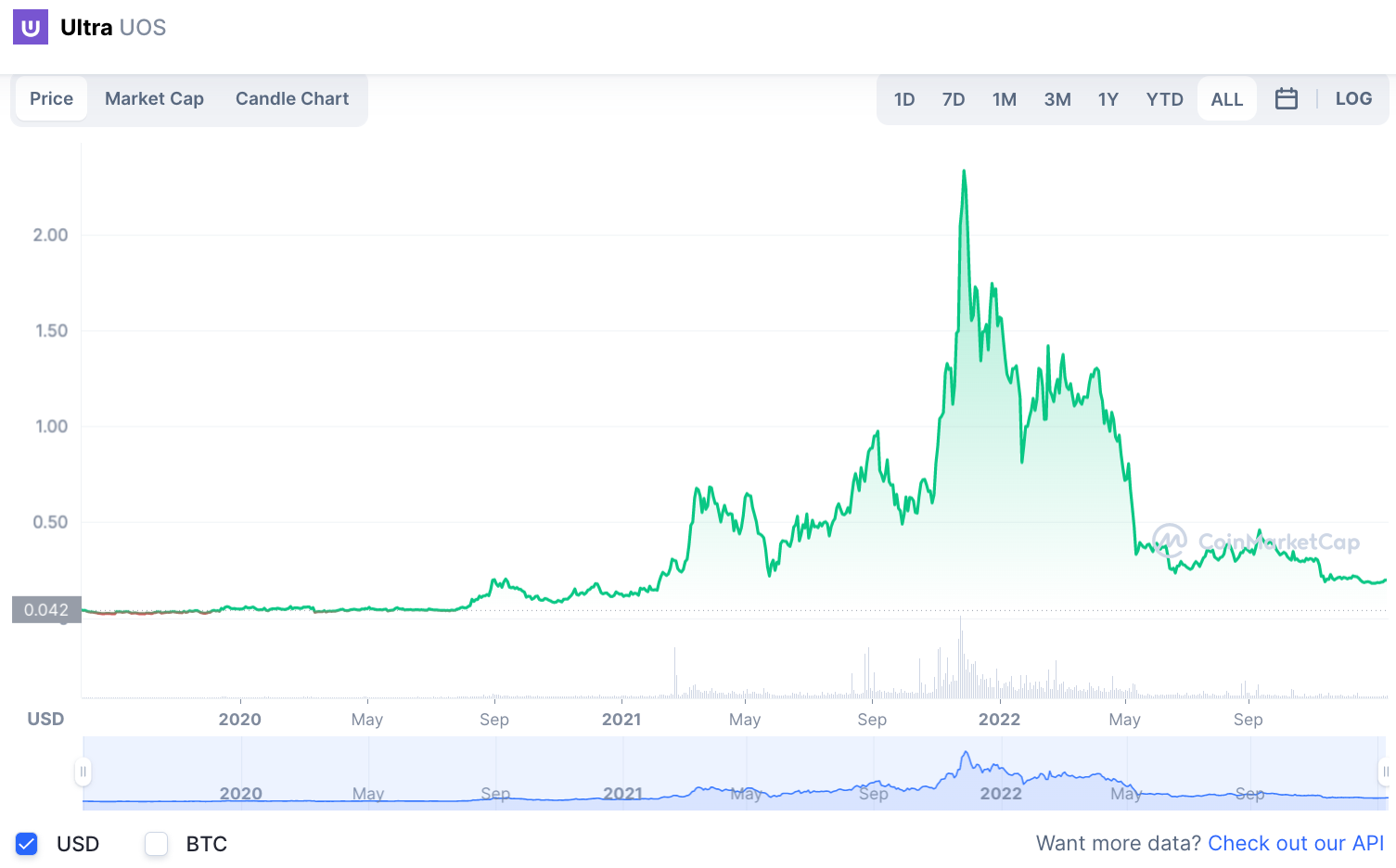 The token was launched in 2019 when the crypto market was still not a mainstream concept. However, as soon as it gained that reputation, the UOS token started moving upward. While it was priced at around $0.1 at the start of 2021, it had recorded its all-time high of more than $2.3 by November itself. Judging by this level of growth, MEMAG may see a substantial pump if the bull market gets back on. 
Essentially, the market cap of UOS had increased from a mere $40 million to over $660 million. Under this similar theory, MEMAG could also see more than a 15X spike in its prices. This is likely to an extent since MEMAG also features a product that revolves around a similar concept. But since the market conditions, trends etc have changed at the moment, this may be deemed invalid. Irrespective of that fact, MEMAG could still manage to start an uptrend that could see considerable movement for an extended period if the project does infact, move as per its ambition roadmap and plans. 
So, we expect MEMAG to have explosive profit potential in the upcoming months and years. It can; for all these reasons, be a perfect asset to hold at the moment. 
About the Team
The entirety of a project is dictated by the team behind it. A huge number of cryptocurrency projects, especially within the blockchain gaming domain start with ambitious roadmaps and unrealistic goals. But they often end up being cash-grab opportunities for the developers who run away with millions of investor money.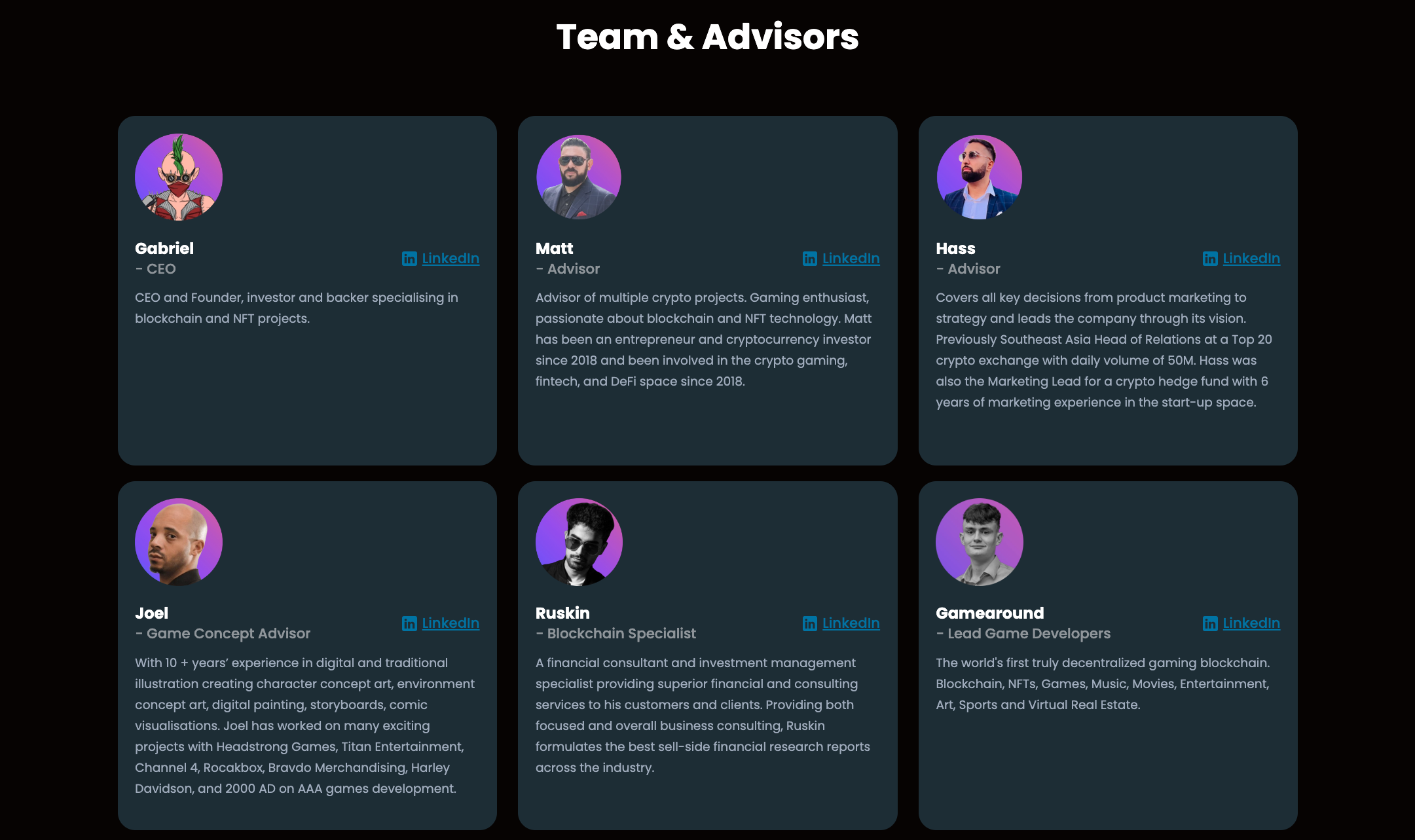 The team for Meta Masters Guild is fully vetted to prevent this. All lead members of the developer team and business front have been identified and have been featured on the website itself. With their LinkedIn profiles attached, users can also go over their accounts and look at their vast experience in the blockchain and management industry. 
Seven names have been listed on the website. The first is Gabriel, who is the CEO of Meta Masters Guild. He is an investor and backer specialising in blockchain and NFT projects. The three top advisors for the project include Matt, Hass and Joel along with Ruskin as the blockchain specialist and the Gamearound organization as the Lead Game Developers. 
As of now, an experienced team of professionals are driving the project towards its presale success along with other associates. The team is expected to increase in size as the initiative gains more momentum. 
Bonus Event – MEMAG Giveaway
Developers of the platform have come up with another exciting way to potentially increase engagement and boost the speed at which presale funds are being raised. Players will be able to perform certain actions to gain entries to be eligible for a whopping $100K MEMAG giveaway. These are the ways for each investor to gain entries to be a part of the event:
Enter Crypto Wallet Address + 1 

Entry Follow @MEMAGgames on Twitter + 1 

Entry Retweet @MEMAGgames on Twitter + 5 Entries 

Tweet About MEMAG + 10 Entries 

Visit @memaggames on Instagram + 1 Entry 

Join the MEMAG Discord Community + 1 Entry 

Join @MetaMasters on Telegram + 1 Entry 

Follow MeMag on Linkedin + 1 Entry 

Visit memagOfficial on Reddit + 1 Entry 

Visit Meta Masters Guild on Facebook + 1 Entry 

Share with Friends – Multiple Entries
The only criteria for being a part of this giveaway is to own a minimum of 150 MEMAG tokens in one's wallet till the event ends. While it is likely that there will be a surprisingly high number of entries it can be a great opportunity for users to win a huge sum of MEMAG tokens or money. 
What is the Best Time to Buy MEMAG?
The best time to buy any cryptocurrency that holds potential and is a promising asset altogether is always- as early as possible. Here, the token is available at a highly discounted rate, since the project is still in its presale phase. It goes without saying that the best time to stock up on MEMAG tokens will be during the presale phase itself. However, the current market conditions have put pressure on even the top cryptocurrencies when it comes to growth. 
While MEMAG is surely a utility token with much promise, it would still be a better option to buy the token in parts. However, if you are looking to park your funds at a safe and promising avenue and not worry about it for a longer period, then it would be wise to buy MEMAG at the current price as it is the lowest range you would be able to acquire them for. 
How to Buy MEMAG
To buy MEMAG, you simply have to participate in the presale and buy your desired amount of tokens directly from the website. There are no prerequisites other than owning a crypto wallet with some ETH or USDT in it. Follow these steps as listed below to successfully purchase MEMAG from the ongoing presale. 
Step 1 – Visit the Meta Masters Guild's official website. Make sure that you visit the correct website since imitators may try to trick you into visiting fake websites and stealing funds.
The website address should be https://memag.io/ . You can also click here to go to the website directly. 
Step 2 – Once you land on the website, on the first screen itself, you will see a box with the presale box. Navigate through the website once and learn more about the project before moving ahead to purchase the token. Once done exploring, connect your Defi Wallet to the Meta Masters Guild website. 
Step 3 – Once your wallet is connected, you will see three options to purchase MEMAG tokens. ETH and USDT are two cryptocurrencies with which you will be able to purchase the tokens. Additionally, you can also buy MEMAG tokens using your debit or credit card.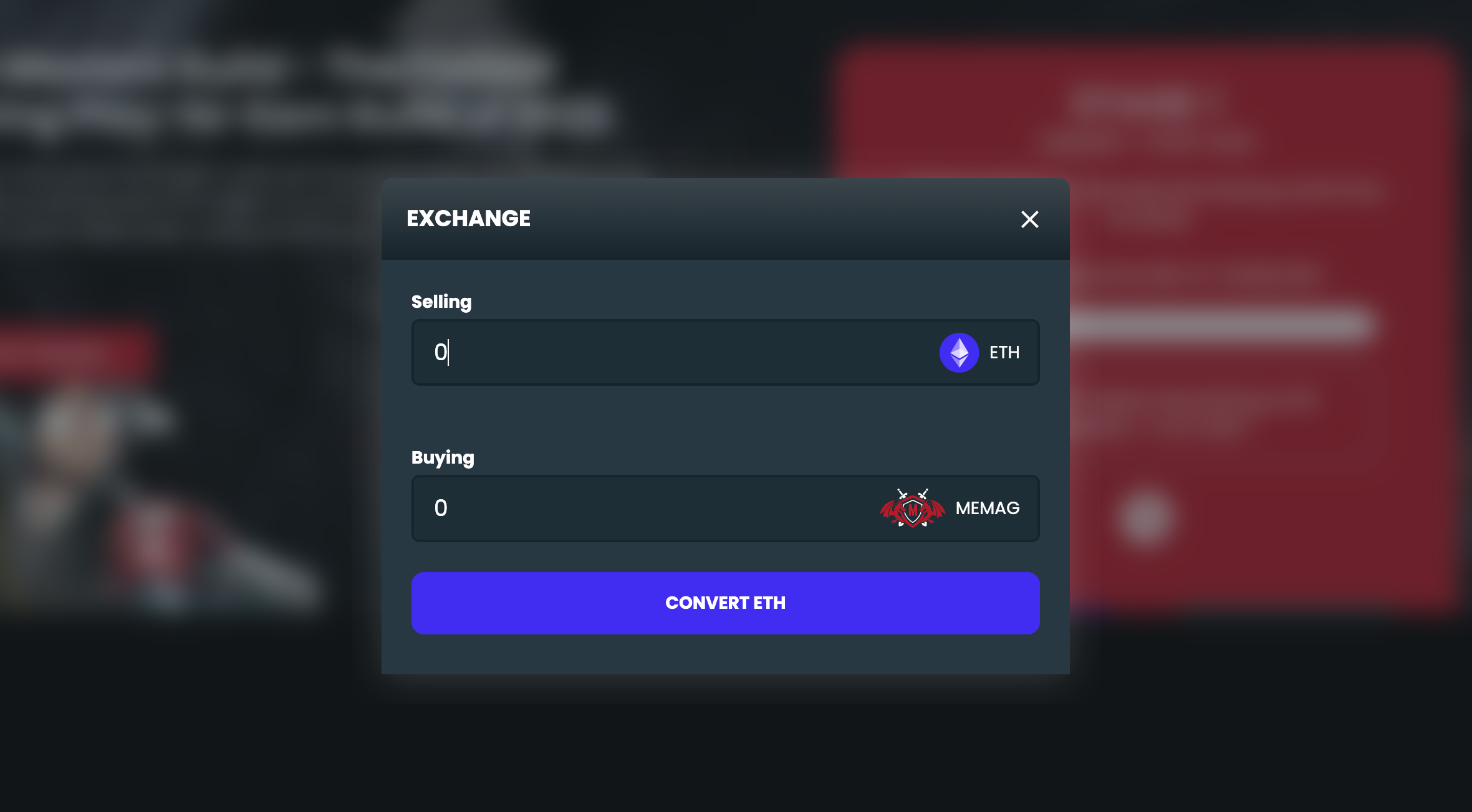 Step 4 – Once you decide which medium you would like to go ahead with, simply add the details, and click on buy. You will need to approve a popup received through your wallet. Once you confirm the transaction, the tokens will be purchased. 
Step 5 – Once the presale is over, the tokens will automatically be credited to your wallet. You will be able to use or sell them right after. 
For more information see our full guide to buying MEMAG.
Why is Meta Masters Guild a Good Investment?
Meta Masters Guild is a promising project which is already gaining popularity within the gamefi space despite being a newly introduced initiative. It has an innovative concept, a strong team, partners and an existing set of features that already put the project in a good spot. With the presale already gaining such a level of traction, it will not be surprising to see its value increasing in the upcoming months. 
Since the trend of P2E games has already flooded the market, a platform that facilitates the same by aiding users to enjoy the entire blockchain gaming experience in one place has a high chance of success. MEMAG is a utility token that governs the entire Meta Masters Guild ecosystem. 
While the bear market surely has taken its toll on several projects, the investor interest seen in the MEMAG presale is evidence that it has the potential to spike up even after it gets officially launched. Additionally, the developers have ensured that they will be working on adding newer game titles, upgrades and developments; all of which could act as catalysts to further boost the value. 
MEMAG's Social Media Presence
Meta Masters Guild has a strong social media presence already. A lot of this is owed to the top crypto websites which have already featured the project on several occasions. Various top YouTubers have also started endorsing the project due to its use cases and fundamentally strong product. 
The project has a presence on various platforms like Facebook, Twitter, Youtube, Instagram, Telegram and Discord. All these social media platforms have been consistently growing, and have been actively catering to any doubts or queries that investors would have. As of now, the telegram community alone is more than 16,000+ members strong. As a result, more people are being attracted towards the presale, which could only prove to be another factor of growth for the MEMAG token. 
Also see our own review of the MEMAG project.
Conclusion
Meta Masters Guild's price prediction is speculative and could be driven by several factors as we talked about in this article. However, since the project has all the required components to be successful, it is very likely that MEMAG will see a continuous uptrend resulting in massive profits for all those who invest in the token. 
FAQs on Meta Masters Guild
What is the Meta Masters Guild all about?
Meta Masters Guild is set to be the largest mobile gaming guild in Web3. The project aims to create fun and addictive games with playable NFTs, where its community can earn rewards, stake and trade.
What is the native token of Meta Masters Guild?
The native token of Meta Masters Guild is MEMAG, which is built on the Ethereum Chain. Its contract code has been fully audited by SolidProof.
Is MEMAG a good investment?
As per our research, MEMAG could potentially be one of the top gainers in the blockchain game sector. It has the potential to 10X in the upcoming months after it gets launched officially.
Can you earn money through Meta Masters Guild?
Yes, you will be able to earn gems by playing games on the platform, which can then be exchanges for MEMAG tokens, which are of monetary value. You can also stake your MEMAG tokens or NFTs on the platform itself for good yields, thereby generating passive income.