Crypto tax calculation service Recap has released the Recap Dashboard, providing UK investors with a single view of their crypto portfolio.
The Recap Dashboard provides users with a comprehensive overview of all their assets, transactions and tax estimations in one place.
"For investors, it's easy to disconnect your taxes and your crypto portfolio, seeing the two as separate financial entities," said Daniel Howitt, CEO and co-founder of Recap. 
"Through our latest updates and the introduction of our new dashboard, Recap draws the two back together, allowing investors and accountants to proactively manage both assets and tax affairs in unison." 
The UK-focused dashboard delivers three distinct figures, pulling together a tax estimate for the prior tax year and current tax year, alongside a users' crypto-net-worth – the users so-called 'true' value after tax.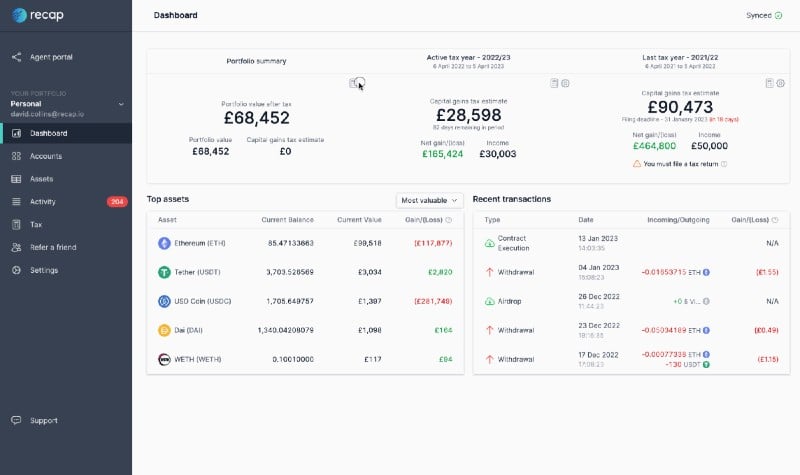 With automated portfolio tracking and HMRC compliant tax exports removing barriers, investors are free to manage their assets without the headaches of understanding the complexities around taxation, the firm says.
"As Rishi Sunak campaigns for Britain to become a global hub for cryptoasset technology, crypto tax guidance remains foggy. Currently shoe-horned into existing rules and regulations, taxing cryptocurrency remains complicated and difficult to understand," continued Howitt.
"Recap helps investors navigate the confusion – helping investors to understand, plan and proactively manage their digital wealth. With this in mind, our dashboard brings the figures you need to know about to the forefront, making cryptocurrency tax simple and self-explanatory. 
"With a keen eye on the bigger picture, investors can look to reduce their tax payout, tactfully disposing of depleting assets to lower the tax figure. With greater autonomy and understanding, future planning and investments are better informed and the dream of six figure assets is a little more attainable."
Cryptocurrency shorts
Paul Veradittakit, general partner at crypto hedge fund Pantera Capital, says "bear markets typically represent a time where there is less noise and distraction from building [blockchain solutions]… we are seeing a higher percentage of startups coming to market with strong teams — entrepreneurs coming out of established crypto startups like Coinbase, larger tech companies like Facebook, Uber, and Square, and legacy financial institutions like JP Morgan and Goldman Sachs".
Grayscale Investments CEO Michael Sonnenshein, writing in the Wall Street Journal, has accused the United States Securities and Exchange Commission of contributing to the circumstances which allowed FTX to grow rapidly then collapse. "'Late to the game' doesn't capture what transpired here. The problem is the Securities and Exchange Commission's one-dimensional approach of regulation by enforcement."
European Central Bank executive board member Fabio Panetta has told a European Parliament committee that a digital euro would preserve the role of the central bank by extending payment options beyond cash. "The digital euro would never be programmable money. The ECB would not set any limitations on where, when or to whom people can pay with a digital euro… we propose that we do not have access to personal data. And it will be for you, as co-legislators, to decide on the balance between privacy and other important public policy objectives like anti-money laundering, countering terrorism financing, preventing tax evasion or guaranteeing sanctions compliance."
The launch of virtual 911 sports car NFTs by German carmaker Porsche saw just 16% of the 7,500-edition collection sell in the opening hours. The high floor price of 0.911 ETH, roughly $1,490, was criticised by Web3 advocates.
Crypto prices
The overall market cap of the 22,300 coins is at $1.06 trillion at the time of writing (7am UK), a 1.2% increase in the last 24 hours.
For round-ups of recent cryptocurrency news developments, click here.
For valuations of the top 100 coins by market cap in US dollars, plus 24-hour price change, see below.