Aptos crypto price had a spectacular performance in January. The APT/USD price surged to a high of $20.44 on January 30. At its peak, Aptos was up by more than 500% from its lowest point in January. As a result, the coin's market value surged to over $2.6 billion. However, there are several reasons why the coin will likely nosedive in February.
Aptos hackathon next
APT price rallied as investors cheered the network's growth. As I wrote in this article, the network has seen increased adoption in the past few months. Users and developers love it for its fast speeds and extremely low transaction costs. As a result, most of its DeFi protocols like PancakeSwap have seen their TVL jump.
The other main catalyst for the Aptos crypto price is the upcoming hackathon. The first hackathon event will happen in South Korea, where developers will pitch their projects. Some of these developers will then receive mentorship and funding from the network's developers. The hackathon will take place on Wednesday.
However, there are reasons to believe that Aptos crypto price will suffer a harsh reversal in February. First, Aptos tokenomics have always been worrying. Data shows that 86% of all Aptos tokens are still locked. These are 856.3 million APT tokens. And the next unlock event of $75 million worth of APT coins will happen in the next 15 days.
Therefore, with whales holding most of the APT tokens, then we could see a pullback as they start taking profits. Second, there are signs of price manipulation since most of Aptos being traded happens in one exchange: South Korea's Upbit.
According to CoinMarketCap, the volume in this exchange accounts for about 34% of all Aptos traded. And the price is usually at a significant premium.
Aptos price technical analysis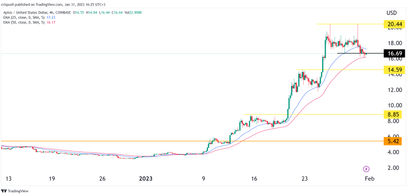 The other important reason why APT price will have a harsh reversal in February is based on technicals. I believe that technicals and price action analysis are the best ways to predict the future of an asset. On the 4H chart, the coin has formed a double-top pattern at $20.45.
This pattern usually sends a warning sign on an asset's price. Its neckline stands at $16.69, where the coin is currently. Therefore, Aptos price will likely have a bearish breakout in February. The initial target for this view will be at $14.59, which is about 13% below the current level. Further declines below that price could see it drop to $5.42.